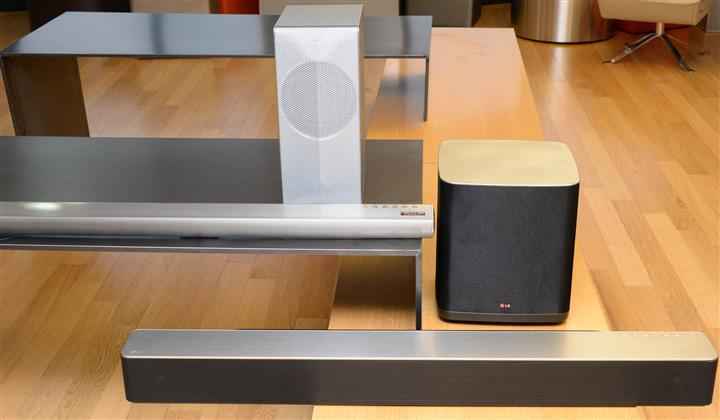 LG will reveal its new Music Flow Wi-Fi Series range of products for music and movie lovers at the upcoming International CES in Las Vegas, this January. This new series includes the company's first battery-powered Wi-Fi Speaker (Model H4 Portable/NP8350), advanced Wi-Fi Sound Bars (Models HS7/LAS750M and HS9/LAS950M) and a streaming 3D Blu-ray Player (Model BP550). All the new speakers are compatible with Android and iOS devices.
Each LG Music Flow Wi-Fi device can be used independently or connected to another device wirelessly, using Advanced Wireless Network and Dual Band Wi-Fi (2.4/5GHz) technology to deliver a seamless audio experience. Unlike other Bluetooth speakers, streaming to a Music Flow Wi-Fi Series speaker from a smartphone continues uninterrupted when receiving a call. If home libraries aren't enough, users can stream music from service providers such as Spotify, Deezer, Napster, and TuneIn.
The LG H4 Portable/NP8350 is the company's first wireless speaker with a built-in battery for easy portability from one room to another in the home. The Music Flow Wi-Fi Series lineup also includes two Wi-Fi Sound Bars that deliver rich, full and immersive audio — the HS7/LAS750M provides seamless HD sound while the HS9/LAS950M offers outstanding, deep acoustics.
LG Music Flow makes creating a personalized wireless home entertainment centre easier than ever. In Home Cinema Mode, users can wirelessly connect two of H4 Portable/NP8350 speakers to the Wi-Fi Sound Bar as rear left and right channels to completely immerse the viewer in surround sound. Each speaker can be individually set to match the desired environment based on the speaker's position. And LG's BP550 Streaming 3D Blu-ray Player can be connected to Music Flow speakers to stream sound from any CD or USB drive.
What's more, the Auto Music Play feature gives LG Music Flow the ability to deliver a user experience that maximizes convenience for listeners on the go. Music on a smartphone will automatically begin playing on a Music Flow Wi-Fi speaker when the phone comes within one foot. So you could be listening to music on your headphones on the subway ride home but the music will begin playing automatically from your living room Wi-Fi Sound Bar when you enter your living room.
The collection also comes with LG HomeChat capability that allows users to control the LG devices using the popular LINE free-text messaging app on any smartphone or tablet. Users can use this feature, basically sending a text to the speaker with simple commands such as "play songs for party" or "turn off music after one hour." With HomeChat, LG Music Flow Wi-Fi Series can also act as a personal assistant, setting alarms and alerting users of upcoming events on command.
For more info, check out www.LG.com.
Comments are closed.