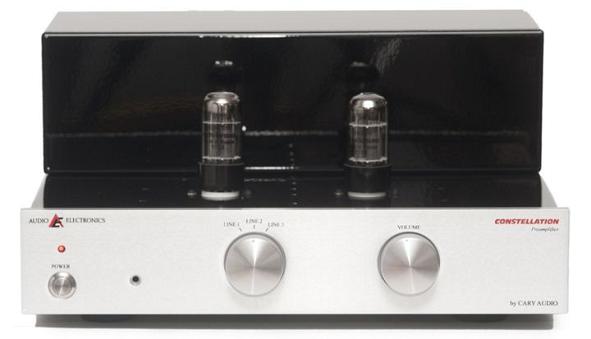 Audio Electronics by Cary Audio has just introduced their new Constellation tube preamplifier.  The Constellation preamplifier utilizes 6SN7 tubes, in Class-A triode mode.  The preamplifier usesa fully regulated power and heater supply with a custom R-core power transformer device that was designed to Cary Audio specifications.  With a focus on providing sonic integrity, the signal path is simple; however, employs premium parts.
The Constellation was developed with a focus on providing the highest sound quality, avoiding wasted expense on non-essential features.  The Constellation can be used in any system where a suitable preamplifier is required but can also be paired with Audio Electronics new Hercules power amplifier to provide musical enjoyment. 
Weight: 22 lbs.
Dimensions: 13" L x 14.25" W x 7.5" H
The Audio Electronics by Cary Audio Constellation preamplifier is currently available for purchase through Audio Electronics by Cary Audio's online store or through your local Cary Audio dealer at a MSRP of $1,495 U.S.  Look for more details at: www.caryaudio.com.