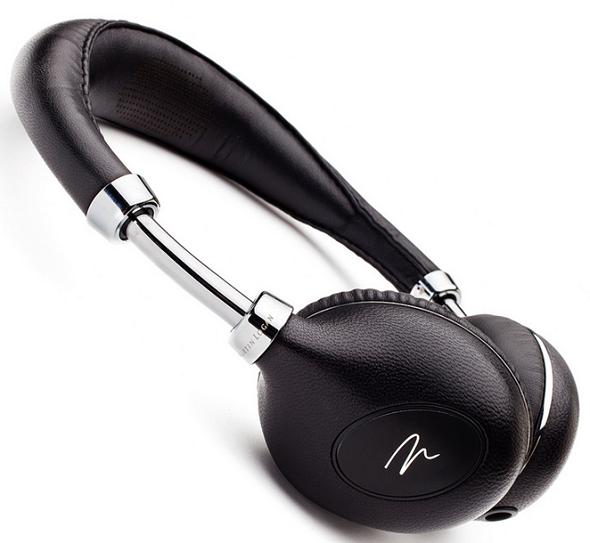 Hot on the heals of MartinLogan's first headphone product the Mikros 70 in-ear headphone, MartinLogan has just announced their new Mikros 90 reference noise isolating on-ear headphones.  Inspired by the sonic clarity and detail of MartinLogan electrostatic speakers and designed by MartinLogan's in-house team, the Mikros 90 is poised to delivers realism, richness and purity of sound that MartinLogan is know for.  Given the noise isolation of these on-ear headphones, users may get a taste of having their own portable MartinLogan listening room.  
MartinLogan has focused on delivering outstanding reference quality sound with natural deep, extended bass and an open, revealing midrange, along with executive styling within a minimalistic design. High quality materials, uniquely tuned drivers, and obsessive attention to detail are as much part of this new portable design as in our traditional loudspeakers. The Mikros 90 body is constructed from genuine leather and lightweight polished aluminum to provide years of deepening enjoyment. Soft replaceable ear pads provide a snug fit that isolates up to 92.05% of ambient noise and provide outstanding sound quality.
Features include a 90-degree gold-plated 3.5mm plug and a simple, yet durable, removable black rubberized cord that dampens and isolates noise often transmitted through contact and movement. A folding design and custom carrying case assure safe stowage when traveling.
Mikros 90's in-line remote/microphone controls volume, play/pause, track selection, voice control, and allows seamless transitions between listening to music and phone calls on compatible Apple devices. The remote and microphone also function with a variety of smart phones, digital media players and similar devices with a standard 3.5mm 4-conductor socket.
The Mikros 90 is shipping at the end of November with an MSRP of $299.95 (US) each, look for more details at: www.martinlogan.com/headphones.