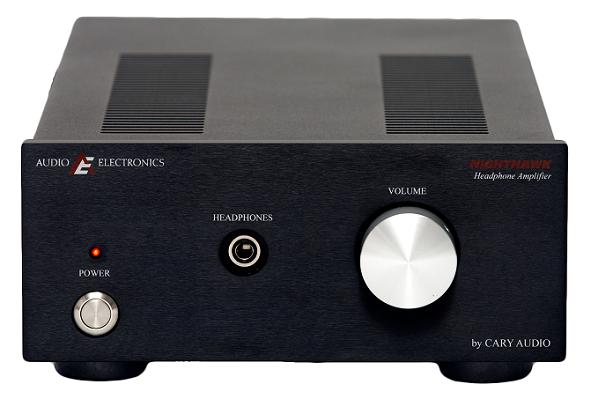 The Nighthawk dedicated headphone amplifier is the latest release from Audio Electronics.  Audio Electronics is a product line that is designed and manufactured by Cary Audio, with the objective of delivering high-end performance products at modest price points.  
Built in the USA, the Nighthawk is an all-new design, featuring top quality parts mounted on a thick gauge fiberglass circuit board.  A power transformer, rated at three times what is required for the amplifier's design, feeds a fully regulated discrete power supply for the best sound quality.  Operating exclusively in Class A, the Nighthawk's front end is a monolithic high-speed FET, which then goes to a fully complementary high-speed buffered output stage for extremely high linearity and low distortion, leading to musical accuracy.  No global feedback is used.  The Nighhawk is designed to drive headphones with an impedance between 20 and 600 ohms. 
The Nighthawk Headphone Amplifier has just begun shipping in May 2012 at a MSRP of $1,195 U.S.
For more information, look to: www.caryaudio.com.