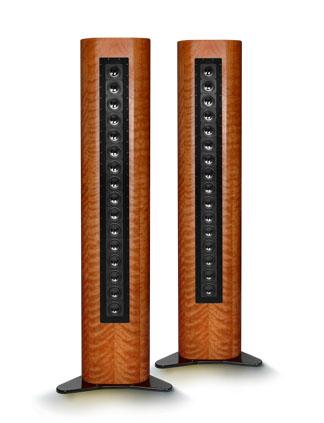 Audience is set to debut their new Mark II top of the line ClairAudient 16+16 loudspeaker, at the upcoming 2012 T.H.E. Show: Newport in California (June 1 – 3). The Mark II is a substantial upgrade of the former 16+16, adding eight 6 x 9-inch custom passive radiators in a one-way, bi-pole loudspeaker. The Mark II will have a response of 30vHz to 22 kHz vs. the former 16+16 that was flat down to only 80Hz., thus eliminating the need for a subwoofer..
The upgraded ClairAudient 16+16 loudspeaker is a unique bi-pole (front and rear radiating) one-way line source design that incorporates the company's second-generation proprietary full-range A3-S2 drivers and 6 x 9 inch cast aluminum-frame passive radiators that are custom designed to work specifically with Audience ClairAudient loudspeakers. Audience claims this new design offers a combination of ultra high resolution, coherency, ultra wide dynamics, tonal accuracy and precise imaging.
Measuring 15 inches wide by 12 inches deep by six feet tall and incorporating 32 A3-S2 drivers per channel, the ClairAudient 16+16 is graceful and elegant in appearance, and is available in a choice of exotic wood finishes. The ClairAudient 16+16 Mark II is designed, engineered and handcrafted in the United States.
Audience loudspeakers are based on unique SSIT SweetSpace TM Imaging Technology that offers an optional expanded listening area set-up configuration. The Audience A3-S2 drivers feature a large, patented neodymium-magnet motor structure, an exclusive rigid/lightweight anodized aluminum-magnesium alloy cone material with a curvilinear shape and a concave dust cap designed to control high-frequency cone breakup and provide optimum dispersion. The 3-inch driver, in combination with the speaker's passive radiators, delivers unusually flat frequency response without crossovers and other compromises of conventional woofer/midrange/tweeter/crossover complexities. The ClairAudient 16+16 is designed to convey music with extraordinary realism, impact, subtlety and the emotional involvement of a real-life performance.
The ClairAudient 16+16 Mark II will be demonstrated at T.H.E. Show: Newport as part of a complete Audience music system including the AdeptResponse aR6-TSS power conditioners, Wavemaster buffered autoformer preamplifier, Wavemaster mono-block power amplifiers, Au24e cables, powerChords and other components.
This speaker is not for everyone, with a MSRP of $72,000, it will only be available to those with substantial pocket-books. Look for more details at: www.audience-av.com.