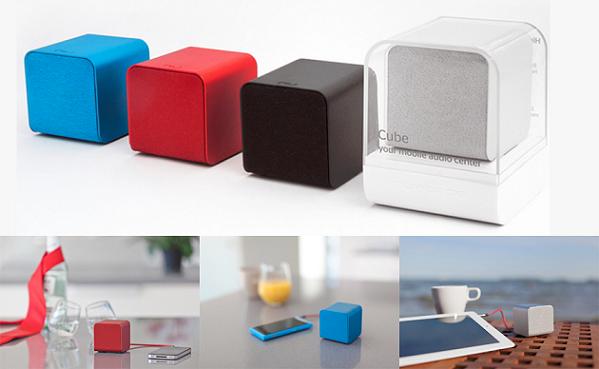 NuForce, Inc., has just announced its all-new Cube mobile speaker with integrated USB DAC and headphone amplifier – a triple threat, as it were.  Just 2 inches tall, it provides the compactness for easy portability. 
Speaker: NuForce claims that the new Cube incorporates a high-quality driver and electronics that will produce high-quality sound in the areas of sonic detail, depth and dimension.
USB DAC: The Cube's USB digital-to-analog converter (DAC) will allow the user to bypass their computer's internal DAC, which promises improvements in sound quality.
Headphone Amp: The Cube's has an integrated optimized headphone amplification circuit that is claimed to have the power to handle even difficult to drive headphones, which providing clarity and detail.
Product Specs:
Battery: Rechargeable Lithium Battery
Operation Time: 8 hours
Dimension: 58.5mm x 58.5mm x 60.0mm
Available Colors: Black, Silver, Red, Blue
Included Accessories: 3.5mm stereo cable 0.6M, USB Cable 0.7M, soft carrying pouch
The NuForce Cube is available now for $119 U.S. Look for more details at: www.nuforce.com.