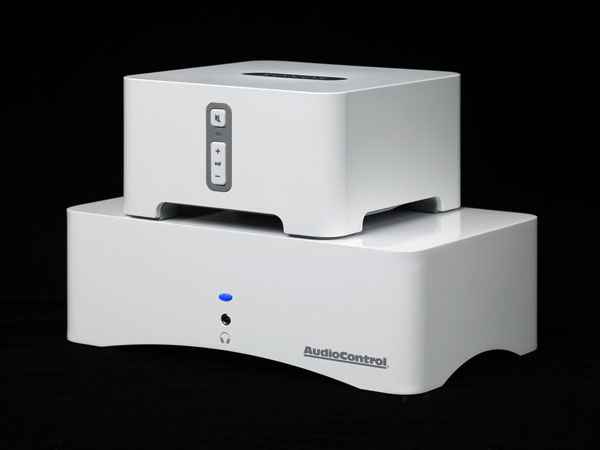 Digital music systems are a hugely popular product category today, the trouble is that most are under-powered and hence unable to deliver high quality music playback.  The AudioControl Rialto 400 is a compact, high-powered amplifier with a built-in audiophile-grade DAC designed to provide greater performance and higher sound quality for all analog and digital systems, including Sonos home entertainment systems.
The Rialto 400's amplifier delivers over 100 watts of power per channel into 8 ohms and 200 watts per channel into 4 ohm loads. Additionally, the Rialto 400 can be bridged to perform as a mono-block amplifier.  The Rialto 400 features a built-in high-performance Wolfson DAC that drastically improves audio quality allowing digital and analog audio-systems to perform with better speakers across the home. By incorporating an audiophile-quality DAC, the Rialto 400 allows connected digital audio sources such as Apple iTunes library, Pandora and Spotify to provide higher quality acoustics with clearer, more accurate analog signals during playback.
All of the performance and power of the Rialto 400 has been designed and engineered into a compact design that sits at an incredible 8.5" wide, 2.9" tall and 5.4" deep. This compact size makes the Rialto 400 the perfect local-zone amplifier solution for any location across the home or in a traditional rack set-up.
Equipped with AudioControl's unique patent-pending AccuBASS circuitry, the Rialto 400 rejuvenates the bass response lost in most digital compression schemes and brings it back to the signal path. This results in a richer and fuller audio performance with better bass and mid-bass response often missing in today's compressed music. The net effect is that the audience will enjoy a more complete listening experience and hear music much closer to the way the artist intended.
The Rialto 400 has an array of digital and analog inputs, including PCM to connect with digital audio outputs from televisions and a 12V trigger for use with control and automation systems. Toslink, coaxial, line level RCA, 1/8″ audio and speaker level inputs for interfacing with source units without line level are included in the specification. This plethora of inputs eliminates the need for additional expensive outboard components thus making it the most flexible product of its kind.
In order to keep these inputs systemized, the Rialto 400 utilizes AudioControl's SMART Signal Sensing, which allows the user to prioritize which input to use based on personal preference. When the system is turned on, it is configured to automatically search for the preferred active signal and decipher the appropriate processor needed in communication with one of the system's digital or analog inputs. For example, if a homeowner decides to switch from using a separate distributed audio system within the home to his or her integrated Sonos Connect set-up, the Rialto 400 will instantly recognize the change and immediately switch to using the connected digital audio input used by the Sonos.
The Rialto 400 also features an integrated headphone jack to allow it to be used in other applications such as gaming systems or with personal audio products such as headphones and iDevices.
The Rialto 400 is available in Sierra White and Satin Black and retails for $799 US.  For more info, please visit www.audiocontrol.com.