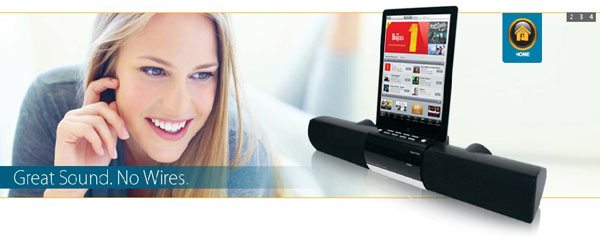 BEHRINGER, a manufacturer of affordable professional audio and music equipment, has just unveiled its Eurosound consumer electronics line at the 2012 CES.  Aimed at music enthusiasts and consumers looking for quality sound, aesthetics and value, Eurosound offers a wide range of products from iPad sound systems to digital drum sets, while remaining true to the BEHRINGER company mantra: "Double the Features at Half the Price."
Some 50 new Eurosound products span across several product lines; each is detailed below.
Home Sound:  BERHINGER's new Home sound products elevate the art of listening to a high-performance experience for every room of the home.  From the Soundscape Air, the multi-room wireless made-for-iPod sound system to the Eclipse XT wireless subwoofer and soundbar set, these products offer a level of aesthetic sensibility, sound, power and ease of use that rivals upscale competitors at twice the price. 
Portable Sound:  BEHRINGER's new Portable line provides innovative sound solutions for travel, tailgating, poolside get-togethers and much more. Check out the MiniBlu, an ultra-portable, rechargeable Bluetooth speaker with FM and USB, and Tuff Tunes, a practically indestructible water-resistant AM/FM radio for home improvement and construction projects.
Live Sound:  Whether you're speaking at a corporate event or hosting a party in your home, BEHRINGER's Live sound line will make users the center of attention.  For overall value and versatility, nothing beats the Backyard Blaster, a portable PA system with iPod dock that can be used as a party speaker and is the perfect system for meetings and business presentations.
Sound Creation:  Remaining true to BEHRINGER's prosumer audio roots, the Sound Creation line enables anyone to indulge their musical ambitions. From the Teachlite 54, a digital keyboard that teaches how to play piano, to the iSCREAM, an all-in-one microphone and recording solution for the iPad, this line proves that you don't need a professional recording studio to get that "studio magic" sound.
For more info, please check out www.behringer.com/eurosound.