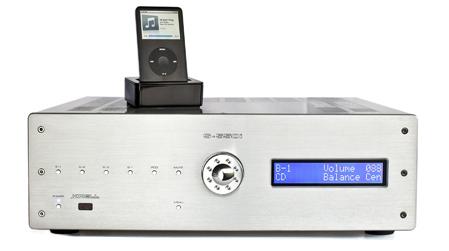 Krell, this week is showing off a couple new products at CES. There is their new stereo Phantom III preamplifier and S-550i integrated amp.
The Phantom III is a first for Krell in terms of including an optional digital input module and a headphone input on a preamplifier. This digital module has AES/EBU, coaxial and optical digital inputs for use with streaming devices or other digital sources. The digital module supports up to 24-bit/192kHz audio. The Phantom III utilizes a true dual monaural design, having separate power supplies and circuit boards for the left and right channels. Headphone amplification circuitry is reported to be identical to the main amplification circuitry, thus providing similar levels of performance.
The second new product being features is the S-550i integrated amp. This new integrated amplifier incorporates an iPod dock, balanced and single-ended inputs, RS-232 connectivity. The integrated preamplifier leverages the circuit designs from the Phantom III preamplifier. Power output on the new S-550i uses a 1750VA toroidal transformer and 68,000 microfarads of capacitance to provide a rated 275 wpc.
The Phantom III preamplifier has a MSRP of $5,000 U.S., add $1,000 for the digital module and the new S550i integrated amplifier has a MSRP of $5000 U.S.  Both new products are expected to become available by the second quarter of 2012.
Look for more details on these and other Krell products at: www.krellonline.com.