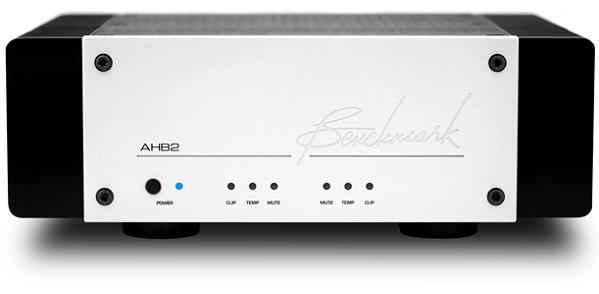 Benchmark Media Systems Inc. (Benchmark) has developed an all new stereo power amplifier that incorporates all-new THX amplification technologies.  The all new AHB2 stereo power amplifier utilizes entirely new patented technology that eliminates most sources of distortion while extending dynamic range to meet the needs of high-resolution audio.  
With the new AHB2 it possible to reproduce dynamic ranges that exceed 125 dB, well beyond the capabilities of most power amplifiers, typicall limited to 100 to 105 dB of dynamic range.  This enablese the AHB2 to realize the full dynamic potential of high resolution 24-bit recordings.  In addition, this extended dynamic range means a lower noise floor, making the AHB2 10 to 30 dB quieter than the typical audiophile power amplifier, allowing for more of the nuances and details in recordings to be heard.  
The frequency response of the AHB2 extends beyond 200 kHz, to deliver the ultrasonic detail and fast transients captured by high-resolution recordings. At the other end of the audio spectrum, the low-frequency response extends below 0.1 Hz. The AHB2 has a high damping factor that augments its extended low-end to deliver solid, well-controlled bass.
THX recently patented two new technologies that address crossover distortion, and Benchmark has incorporated these innovations into the AHB2 design. These new innovations virtually eliminate crossover distortion while offering opportunities to improve efficiency, damping, and dynamic range. The licensed technology solves the crossover problem by combining a plurality of output stages such that one stage drives the output while another stage enters a crossover region. Distortion performance exceeds that of class A amplifiers, while the efficiency exceeds that of traditional class AB amplifiers.
Benchmark AHB2 Specifications:
– 2-channel audio amplifier
– Low distortion (less than 0.00013% THD @ 1 kHz)
– Dynamic range of 130 dB
– 2 x 170 W into 4 ohms or 340 W bridged mono into 8 ohms. H
– Dimensions 3.5 inches x 11 inches x 9 inches
Pricing and availability is yet to be announced – look for more information about Benchmark's AHB2 at: www.highresolutionplayback.com.