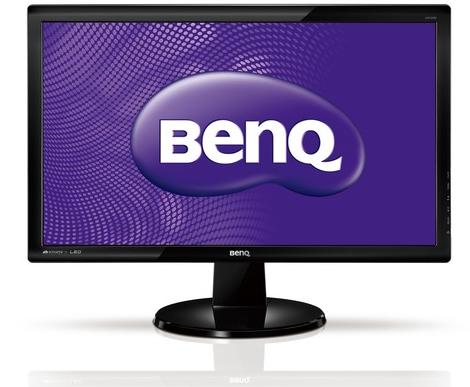 BenQ America Corp. has just announced its new GW Series of VA LED monitors, for home and office. The new GW Series is comprised of three models, offering different sizes and connectivity options. All GW series monitors boast a 5,000:1 ultra-high native contrast ratio, 8-bit color performance, wide-angle viewing, and LED backlighting.
The GW series includes the GW2250, GW2450, and GW2750HM VA LED monitors. All GW series panels feature D-Sub and DVI-D connectors and are offered in 21.5-inch, 24-inch, and 27-inch widescreen sizes respectively. Additionally, the GW2750HM is equipped with line-in connectors and headphone jacks, and is further bolstered with HDMI(R) connections. To complete the A/V experience without the hassle of connecting to additional audio devices, the GW2750HM adds built-in 2W speakers.
Monitors in the GW Series offer a 5,000:1 ultra-high native contrast ratio. Offering 8-bit color performance, the VA monitors render a total of 16.7 million color shades to deliver smoother and more stable transitions from one color to the next.
With naturally deeper blacks and minimized light leakage, the GW Series panels display flawlessly layered and precisely contrasted details in even the darkest images. In addition, VA monitors offer an ultra-wide viewing angle of 178 degrees/178 degrees, allowing for sharper details, higher contrast, and authentic colors to be viewed and shared by everyone from left, right, above, and below. The GW panels' LED backlighting provides lower power consumption than conventional CCFL monitors, while operation in Eco Mode provides even more energy savings.
For effortless setup, each GW Series model is Microsoft(R) Windows(R) 7 certified. Users simply connect a monitor to a computer equipped with Windows 7, and the operating system will instantly recognize it.
The GW Series monitors are available now at the following MSRP:
– GW2250 for $219 U.S.
– GW2450 for $249 U.S.
– GW2750HM for $419 U.S.
More information is available at www.BenQ.ca