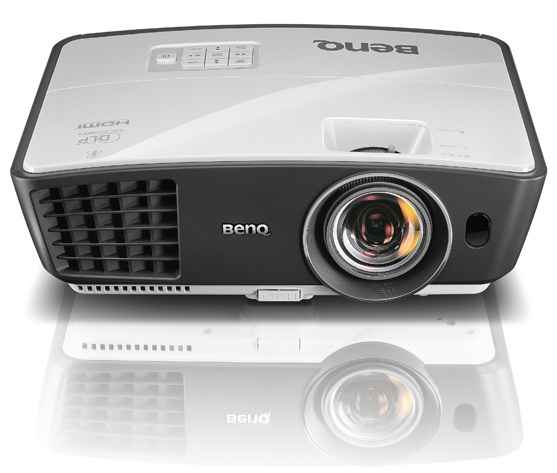 BenQ has just added a new projector to its short-throw home entertainment lineup — the W770ST projector.  The new W770ST provides affordable 720p HD projection for smaller spaces.  
The W770ST can project an image of 62″ inches wide at just 40 " from a screen, which is perfect for small home theaters such as those within a bedroom or family room.  This flexibility also alows the projector to be used in busy rooms, close enough that traffic in an out does not need to pass in-front of the projector obstructing the image on the screen.  With a provided quick-release button that projector can easily be detached for quick transport.
The new projector has an integreated 10 Watt speaker, where a separate audio system connection is not available or convienient.  The W770ST provides 2500 ANSI lumens and a high contrast ratio of 13000:1 to ensure brilliant, crisp images even in relatively bright settings.  The DLP projector also features DarkChip3 to provide deeper black levels at 720p HD resolution and the projector is 3D capabable taking advantage of six primary colors (RGBCMY).  
The W770ST uses BenQ's SmartEco energy-saving technology, which adjusts the lamp power automaticially to maximize power savings and deliver the best contrast and brightness performance by using only as much light as needed.  Power savings of up to 70 percent cna be achieved resulting in lower costs – and also less lamp replacements.  Using DLP image processing, colour deterioration is virtually eliminated.
Full 3D timing, including Blu-ray 3D 144Hz content is provided for through an HDMI connection and the W770ST projector works with BenQ's newly redesigned 3D glasses, which are optional.
The BenQ W770ST is currently available at a MSRP of $649 U.S.  Look for more details at: www.BenQ.ca.