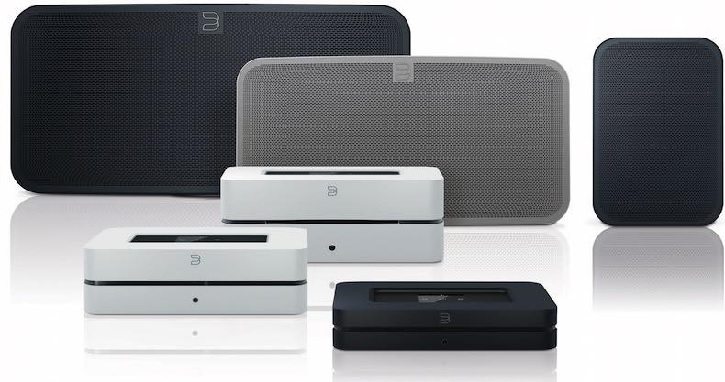 Bluesound International has just announced their all-new Bluesound Gen 2 multi-room music system platform that supports high-resolution audio. The Gen 2 is a complete reinvention of the original Bluesound product line-up and app and brings a new compact industrial design, enhanced feature-set and enhanced performance.
Using BluOS, a proprietary purpose-built operating system, Bluesound integrates all sources into a single music stream, and delivers studio-quality music to every room. There are six new models, three of which integrate with new or existing audio systems, and three work as complete plug-and-play music systems, as follows:
NODE 2 Wireless Streaming Music Player (MSRP $499 U.S.)
POWERNODE 2 Amplified Wireless Streaming Music Player (MSRP $799 U.S.)
VAULT 2 Streaming Music Player, 2TB Storage and CD Ripper (MSRP $1199 U.S.)
PULSE 2 Full Size All-In-One Wireless Streaming Music Player (MSRP $699 U.S.)
PULSE MINI All-In-One Wireless Streaming Music Player (MSRP $499 U.S.)
PULSE FLEX All-In-One Wireless Portable Streaming Music Player (MSRP $299 U.S.)
New feature enhancements and technologies of Bluesound Gen 2:
» Powerful ARM Cortex-A9 CPU running at 1GHz
» Improved connectivity with both Analog and Optical Inputs
» IR Sensor with TV Connect learning function
» Bluetooth 4.0 with aptX high-fidelity codec support
» Headphone Output with Dedicated Amplifier
» Coax Digital Out (NODE 2, VAULT 2)
» Gigabit Ethernet speed
» New advanced Wi-Fi design
» Best-in–class audio performance
» Industrial design by renowned designer David Farrage of DF-ID.
The TV Connect feature endows most models with the ability to connect to your TV and integrate its IR control functions for a seamless integration of TV sound. The ability to stream music and sound directly from your handheld smart device either via Bluetooth or Wi-Fi is another great new enhancement to the Bluesound experience. Faster processing and network connections improve responsiveness of the Bluesound Controller App.
The Bluesound Controller App is also being redesigned with new graphics and an enhanced layout for even more intuitive operation. Fully backward compatible with Bluesound Gen 1, the upgraded Controller App adds many new enhancements. Presets, for example, allow a favorite playlist or program to start playing with one simple touch. The Bluesound Controller App is available on iOS (iPhone, iPad and iPod Touch), Android, Kindle Fire, and Windows & Mac OS X desktops. Control4 also certifies Bluesound for integration into advanced control systems.
The sleek new industrial design for Bluesound was created by renowned designer David Farrage of DF-ID. All models are available in both black and white finishes.
The Bluesound NODE 2, POWERNODE 2, VAULT 2 and PULSE MINI are available now, while the PULSE 2 and PULSE FLEX will be available in September 2015. Look for more information at: http://www.bluesound.com