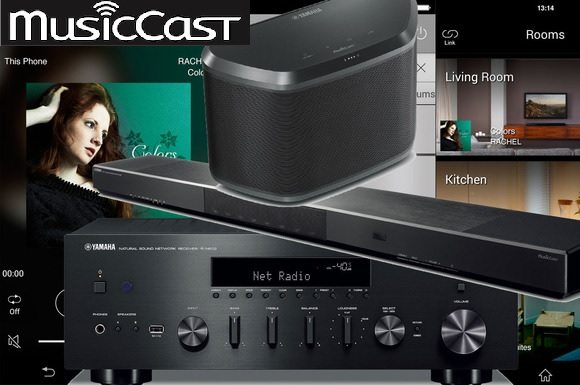 Yamaha has just announced MusicCast, a new way to wirelessly stream music and provide a whole home distributed music solution with easy control via a simple app. MusicCast has been developed to work with existing home Wi-Fi networks, providing access to wide-array of audio content from just about any source, including: streaming services, Internet radio channels, digital music libraries, Bluetooth devices as well as other sources connected to MusicCast products such as set-top cable/satellite boxes, Blu-ray Disc players and even turntables. Yamaha already has over 20 MusicCast enabled products in line for intrduction in 2015 that include AV receivers, wireless speakers, sound bars, Hi-Fi components and powered monitor speakers.
All MusicCast products will support Bluetooth playback, allowing connection and listening via Bluetooth enabled music devices. MusicCast device's will be able to output a Bluetooth stream, allowing transmission to Bluetooth speakers or headphones. MusicCast also supports wireless playback of high-resolution audio files for a true high-fidelity listening experience with exceptional sound realism and detail.
MusicCast systems will be able to provide true surround sound, including multidimensional Dolby Atmos and DTS:X in a main TV room, while streaming the audio content to other rooms throughout the home.
With the free MusicCast app available for Apple and Android smartphones and tablets, users can easily browse content and play it back to each room where a MusicCast device is present / connected and the app will also permit linking of rooms together.
MusicCast includes Pandora, Spotify Connect, Rhapsody and SiriusXM Internet Radio streaming services, as well as thousands of free local and international Internet radio stations. All MusicCast products support Bluetooth playback, so virtually any streaming service can be accessed via Bluetooth from a mobile device. MusicCast can even select over-the-air AM/FM radio stations for playback throughout the home when linked to a tuner-enabled MusicCast device. Both Internet radio and terrestrial radio stations can be saved as "Favorites" for quick in-app recall.
Unlike other wireless systems on the market today, MusicCast supports true high-resolution audio formats to deliver more accurate reproduction of sonic details, presence and atmosphere. MusicCast components are compatible with Apple Lossless (ALAC) up to 96 kHz / 24-bit, as well as FLAC, AIFF and WAV files up to 192 kHz / 24-bit. Most MusicCast models also support single-device playback of DSD streams up to 5.6 MHz.
MusicCast AV Receivers
Starting in August, owners of the recently launched RX-V 79 and AVENTAGE RX-A 50 Series of Yamaha network AV receivers will be able to perform a firmware update to enable MusicCast capabilities. Supported AV receiver models include the RX-V479, RX-V579, RX-V679, RX-V779, RX-A550, RX-A750, RX-A850, RX-A1050, RX-A2050 and RX-A3050. This represents every one of the latest Yamaha network AV receivers.
Beginning in September, the CX-A5100 preamp/processor, a new companion to the MX-A5000 11-channel amplifier, will become available for those seeking an "AV separates" solution for uncompromising home theater performance. The new model will feature Dolby Atmos and DTS:X object-based multidimensional sound technology, the latest HDMI specs including HDCP 2.2, balanced subwoofer outputs and many other enhancements including MusicCast.
Also in September, the slimline RX-S601 will join the roster of MusicCast enabled models, providing a 5.1-channel AV receiver solution for space-challenged installations.
Additional details on the CX-A5100 and RX-S601 will be made available through separate announcements.
MusicCast Wireless Speaker
The MusicCast Wireless Speaker, available starting in October, features a 2-way design with a large passive radiator combined with Yamaha's digital sound processing for amazingly clear, room-filling sound from this compact model. Choose from solid black or white with a silver accent to fit beautifully in any room of the home. If counter space is limited, the speaker offers a threaded mounting hole, allowing for wall mounting using commercially available brackets.
MusicCast Sound Bars
Yamaha will introduce a MusicCast Sound Bar and a MusicCast TV Speaker Base in September, both of which offer a single-body design for those seeking an easy way to enhance their TV sound without having to connect multiple speakers. Both feature Yamaha's exclusive Digital Sound Projector technology for true (vs. virtual) surround sound and HDMI connectivity with 4K Ultra HD and HDCP 2.2 support for compatibility with today's 4K TVs and sources. The MusicCast Sound Bar (YSP-1600) sports eight speaker drivers plus dual built-in subwoofers in a slim, 2.5"-tall design suitable for placing in front of a TV. The MusicCast TV Speaker Base (SRT-1500) features 10 speaker drivers plus dual built-in subwoofers in a solid wood MDF enclosure that can be used as a base for most 32-inch to 55-inch TVs.
These models will be followed by the MusicCast Sound Bar (YSP-5600) slated for introduction in December, which will support Dolby Atmos and DTS:X using Digital Sound Projector technology to deliver true multidimensional sound.
MusicCast Hi-Fi and Powered Monitor Speakers
Yamaha will also offer MusicCast products designed for discerning music lovers who crave the company's signature "natural sound" Hi-Fi sound quality. This includes the R-N602 network Hi-Fi receiver, available in October, and the NX-N500 powered monitors, available in December. Additional details on these models will be made available through separate announcements.
Availability and Pricing
The following MusicCast products are now available:
RX-V779 ($849.95 U.S.)
RX-V679 ($649.95 U.S.)
RX-V579 ($549.95 U.S.)
RX-V479 ($449.95 U.S.)
AVENTAGE RX-A3050 ($2,199.95 U.S.)
AVENTAGE RX-A2050 ($1,699.95 U.S.)
AVENTAGE RX-A1050 ($1,299.95 U.S.)
AVENTAGE RX-A850 ($999.95 U.S.)
AVENTAGE RX-A750 ($699.95 U.S.)
AVENTAGE RX-550 ($549.95 U.S.)
Home-Theater YHT-5920 ($699.95 U.S.)
Available in the upcoming months:
RX-S601 ($649.95 U.S., Sep.)
AVENTAGE CX-A5100 ($2,999.95 U.S, Sep.)
MusicCast Speaker (Black; $249.95 U.S., Oct.)
MusicCast Speaker (White/Silver; $249.95 U.S., Oct.)
MusicCast Sound Bar (YSP-1600; $499.95 U.S., Sep.)
MusicCast TV Speaker Base (SRT-1500; $599.95 U.S., Sep.)
MusicCast Sound Bar (YSP-5600; $1,699.95 U.S., Dec.)
Receiver R-N602 ($649.95 U.S., Oct.)
Powered Monitor Speakers NX-N500 ($799.95 U.S./pair, Dec.)
For more information on Yamaha MusicCast, please visit: http://4wrd.it/YAMAHA_MUSICCAST.