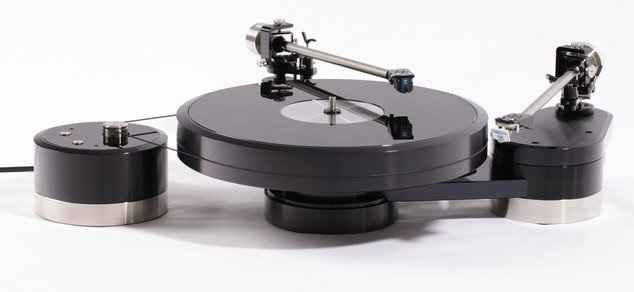 Brinkmann Audio has just announced a new turntable – the Spyder.  The Sypder is a radical new turntable with great versatility, accomodating  up to four 9"to 12" tonearms simultaneously, while providing maximum flexibility of placement.
The Spyder shares construction techniques and components with upscale Brinkmann turntables, including the direct-­‐drive Bardo and flagship Balance turntable.  The Spyder is a belt-drive table that uses the Brinkmann Balance's advanced Sinus motor and solid state power supply.  Even greater performance is achievable by employing the optional RöNt II vacuum tube power supply.  The Spyder's main bearing is the Brinkmann hydrostatic common to all Brinkmann 'tables.  Construction is primarily of anodized aluminum for fast transmission of harmful vibrational energy.  The 22-­‐lb. alloy/crystal‐glass platter ensures speed stability and wide dynamics through the most complex musical passages.
The Brinkmann Spyder will soon be available with a single arm setup for: $14,000 U.S.  An additional tonearm base will be: $3,000 U.S. and an additional tone arm base with extended top plate will be: $3,400 U.S.  Look for more information to be made available shortly at: http://www.brinkmann-audio.com/
Comments are closed.