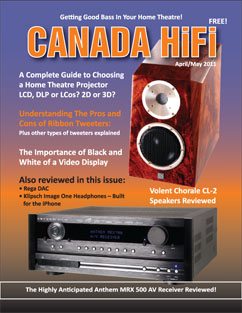 The digital edition of the April/May 2011 issue is now online in the Digital Editions section!
We've got both a flash version for computer users and a high quality PDF to download for iPad users.
Here's what you'll find inside this issue:
•  A Complete Guide to Choosing a Home Theatre Projector: LCD, DLP or LCos? 2D or 3D?
•  Understanding The Pros and Cons of Ribbon Tweeters
•  The Importance of Black and White of a Video Display
•  Getting Good Bass In Your Home Theatre Subwoofer Placement Tips
Product Reviews:
•  Anthem MRX 500 AV Receiver
• Rega DAC
• Volent Chorale CL-2 Speakers
• Klipsch Image One Headphones