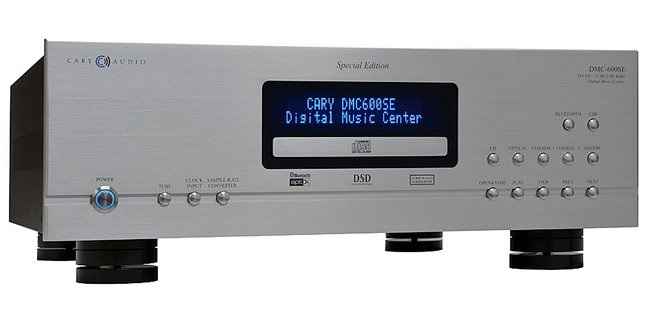 Cary Audio has just announced the release of two new products which they claim to be their best digital products to-date.  The two new models are the DMC-600 and DMC-600SE Digital Music Centers.  Both new Digital Music Centres allow for the continued enjoyment of CD collections while bringing high resolution & super high resolution Asynchronous USB computer audio to the listening chair. 
The DMC-600 and DMC-600SE support PCM up to 32 bit/ 384 kHz native audio as well as native DSD 64, 128, and 256 audio.  In addition, both include: CSR aptX lossless Bluetooth, SPDIF coaxial and Toslink inputs, AES/EBU inputs, fully balanced XLR and RCA outputs, TruBit Upsampling technology and our DiO vacuum tube and solid state analog outputs.  The DMC-600SE takes performance up a notch over the DMC-600 by incorporating reference grade components within the analog output sections, as well as a clock input for use with an external master clock. 
Key Features: 
Multiple Parallel DAC Topology: Utilizes 3 DACS consisting of 6 channels (3 per side) to create a fully balanced parallel circuit with exceptional clarity and detail. DSP, upsampling and clocking duties are done by a separate 128 bit DSP engine, allowing the DACs to focus on straight D to A conversion.
CSR aptX lossless Technology featuring fi Bluetooth Implementation: Fully integrating (fi) Bluetooth digital signals into the entire digital circuit whereby using all features such as TruBit Upsampling, OSO Reclocking, DiO outputs, and more to ensure true high fi sound.
TruBit Upsampling: A sophisticated and powerful process utilizing a 128 bit DSP engine (separate from the DACs) which allows for up to seven (7) different selectable upsampling rates creating a signal so precise as if it were native, all the way up to 768kHz.  
OSO Reclocking: Double reclocking of all signals again once onboard, even XMOS USB, as to ensure all jitter is virtually eliminated to a minute degree. The result is a signal so free of digital artifacts as if it was generated within the unit itself.  
XMOS xCore USB Asynchronous: XMOS asynchronous clocking for computer USB sources whereas the XMOS processor takes complete control over the audio clock; essential for no-compromise digital audio systems.
DiO Analog Stage: DiO Analog Stage is actually two separate analog output stages that are completely independent of one another. One is all solid state and the other is vacuum tube. It's like having two source machines in one allowing you to get the most out of your recordings.
The DMC-600 and the DMC-600SE will begin shipping on December 10, 2014 at the following MSRPs: DMC-600 $5,995 U.S. / DMC-600SE $7,995 U.S.  Look for more details on these products at: www.caryaudio.com.
Comments are closed.