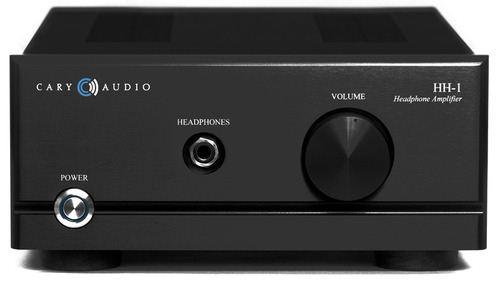 With the headphones market being very hot these days, there seems to be no end to headphone and headphone related products; however, it's not every day that hi-end companies enter this market with a new product. Cary Audio, a company known for its tube-based products has just joined in with their new headphone amplifier – the HH-1 Hybrid Headphone Amplifier. Cary Audio's objective with this product is to help discerning listeners reach their greatest sonic potential with almost any fine headphone.
In step with many of their amplifier products, the HH-1 is a hybrid design, offering what Cary Audio purports to be the best performance of both tube and solid-state circuits. Cary Audio used tubes in the input stage, where they feel they make their best contribution to the overall sound. Accordingly, a pair of 6DJ8 tubes (one per channel) is utilized in the HH-1. The output stage is a single-ended current-sourced MOSFET working in Class A at all times.
In the HH-1, the power supply is fully regulated for lowest possible noise, including the power supply for the tube heaters, and it uses a high performance audio grade toroidal transformer.
The American-made HH-1 hybrid headphone amplifier has just begun shipping as of July 30, 2012, with a MSRP of $1,595 U.S.
Look for more details on this product at: www.caryaudio.com.