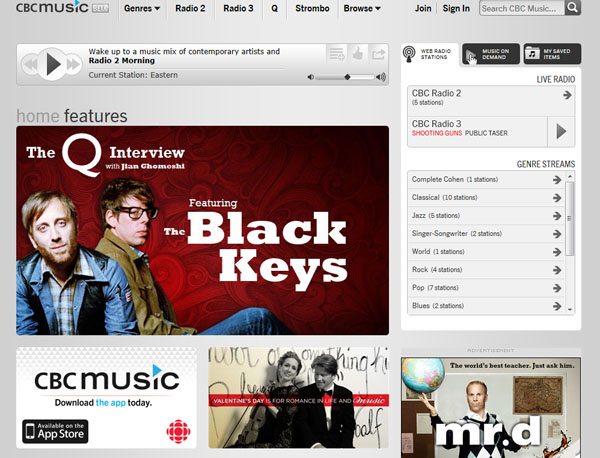 Yesterday CBC launched CBC Music and the CBC Music App – a free new digital music service designed to connect Canadians to the music they love. With a choice of 40 different web radio stations, 14 distinct genre-based communities, and music from nearly 1,000 major and independent music companies, CBC Music provides listeners with access to the very best Canadian and International music. Featuring original content from the most knowledgeable and experienced music personalities and programmers from across the country, hundreds of concerts, features, blogs, playlists, and more, the new music service is a place for music lovers to explore, discover and connect with other music fans. Canadians can experience CBC Music now at cbcmusic.ca.
The new CBC Music App allows listeners to stream CBC Music to their iPad, iPhone or iPod touch, including 40 web radio stations, as well as CBC Radio 2 and CBC Radio 3.
Highlights of CBC Music include:
Completely free, and easy to navigate – just click to play
40 web radio stations built from a library of millions of tracks of music
14 genre-based music communities ranging from rock to classical, pop to jazz, hip hop to country, and everything in between
CBC Radio 2 & CBC Radio 3
Direct access to the music of almost 1,000 major and independent music companies
Artist pages on more than 25,000 independent artists with thousands of songs you can play whenever you want
The best music content from a variety of CBC programs including Q and George Stroumboulopoulos Tonight
CBC personalities who guide Canadians through the infinite world of music
Hundreds of concerts available on demand
Original content including articles, blogs and playlists, updated daily
'The Canadian Concert Calendar' maintained by artists – one of the largest Canadian concert calendars available
The CBC Music App is available for free from the App Store on iPad, iPhone and iPod touch or at www.itunes.ca/appstore. Experience CBC Music online at cbcmusic.ca.