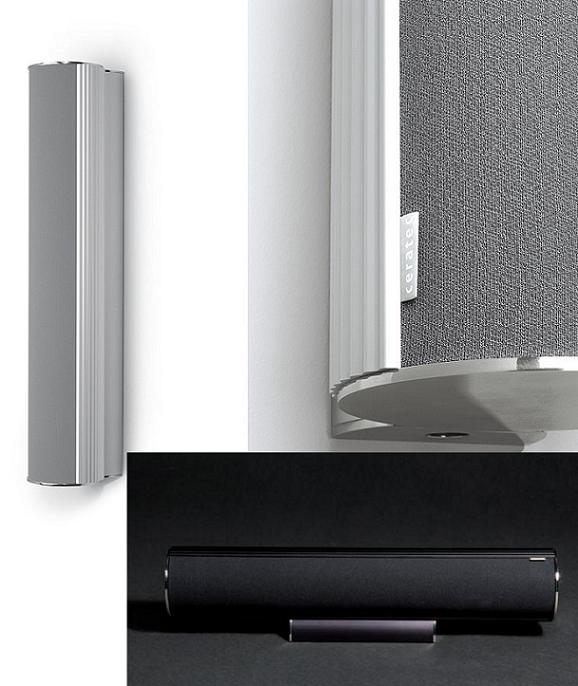 The German entertainment electronics manufacturer Ceratec has been focused for years on consummate products offered in high-quality polished stainless steel, aluminum and glass. The latest development, the CeraAIR Two, is an Apple AirPlay compatible wireless stereo loudspeaker.
The new wireless CeraAIRr Two can enable a iPad, iPhone, iPod or iTunes (Mac or PC) to wirelessly stream music, with no finicky configuration. To use the Internet Radio, YouTube or other functions, the CeraAIR Two can be integrated easily into an existing home network, either wireless or via RJ45. AirPlay compatible equipment can be placed in different rooms, an elegant multi-room solution can be implemented through simple networking, e.g. a song played synchronously throughout the whole house.
The CeraAIR Two can also be hung vertically or horizontally on the wall, all you need to do is turn the base by 45° and it can also be inclined by 10° in any direction. Further equipment such as, e.g. TV or CD player, can be connected at the additional audio input, the automatic signal detection makes additional remote controls obsolete – as soon as sound transmission stops, the electronics automatically switches over to stand-by mode. The bass output can be adjusted room-specific with the installed infinitely variable controller, a subwoofer output is additionally available.
The electronics work digitally with DSP control, utilizing a Hypex Class-D integrated amplifier that provides 64 watts to each bass-midrange driver and 32 watt per tweeter. The total amplifier output is up to 200 watts, allowing for compatibility with small to large rooms.
Two bass-midrange speakers with additional bass-reflex channel are claimed to provie deep, yet precise bass, while ensuring mid-range performance of voices and instruments are accurate and linear. The two high-end tweeters take care of a crystal-clear, pure sound with lots of detail, and outstanding dispersion. The fine-pored DTB foam provides active damping for baffle and grille reflections. The construction details improve phase behaviour and equalize sound pressure level response.
Specifications:
System: Bass reflex, Stereo
Components: 2 x 4" bass-midrange (heavy duty double-magnet) with coated paper cone. NBR surround, current optimized steel frame and 2 x 1.2" high performance dome tweeter with rear volume and neodymium magnet
Amplifier: 2 x 64 watts bass mid-range, 2 x 32 watts tweeter
Frequency response: 50-25,000 Hz
Pre-Amplifier functions: Standby, Stereo Input, Automatic Signal Sense, Bass Control, Subwoofer Output
Frequency bands: 2.4 GHz or 5 GHz
Interfaces: 802.11n radio technology 10/100BASE-T Ethernet-WAN-connection (RJ-45-connection) for the connection of an ADSL or cable modem
Set-up software: AirPort service program for Mac und Windows, Bonjour for Windows
Dimensions: length ( 67 cm) X width (16 cm) X height ( 16 cm )
The CeraAIR Two is available currently at a starting MSRP of 599.00 EUR in silver, black, gold, high-gloss white, high-gloss black as well as in any RAL colour upon enquiry. North Amercian pricing is currently unavailable. Look for more details at: www.ceratec-direct.com.