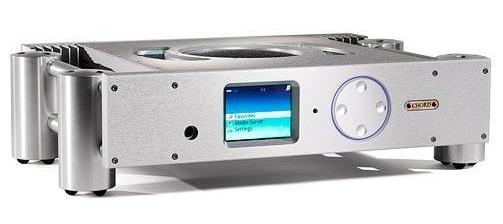 Chord Electronics, out of the U.K. has just released their anxiously awaited DSX1000 – high-performance digital network streamer.  The new DSX1000 incorporates Chord's latest-generation Field Programmable Gate Array (FPGA) architecture found inside the DSX1000, is the same advanced technology used in the highly acclaimed QBD76 HDSD DAC and the Red Reference MkIII CD player, giving the DSX1000 a significant sonic advantage over ordinary network players with off-the-shelf DAC chips.
The FPGA handles all the digital data decoding, clocking, WTA filtering and the 5th generation Pulse Array DAC. Improvements to the Pulse Array DAC have been further complimented with an enhanced power supply design and layout, giving the very best digital-to-analogue conversion available. The DSX1000's streaming engine is directly coupled into our own DAC technology, which carefully re-clocks all data, removing many of the jitter issues that can affect other products where the DAC is coupled into the main streaming chip.
The DSX1000 features UPnP/DLNA access and control and is capable of transforming the sound of MP3, WMA, WAV, AAC, ALAC and FLAC files, with 24-bit/192kHz support where available, and follows the success of our debut streamer, the Chordette Index. Key features include an inbuilt analogue volume control circuit, as used in our CPA8000 Reference preamp, which gives highly accurate volume adjustment without the problems and low-level distortions associated with digital volume controls normally found in streaming products.
The player also boasts both volume-controlled and line-level analogue outputs which feature both balanced XLR and RCA phono connections. The network connection is via a fixed-wired ethernet port due to the bandwidth limitations of Wi-Fi for 24/192kHz support (ethernet-over-mains connections can also be used if required).
The DSX10000 has a full-colour 3.5-inch TFT front-panel display showing album artwork, set up options etc. and conventional control is via a unique front-panel cursor button that illuminates depending on the button pressed. Remote control is also available. The unit can also be enjoyed using many of the UPnP apps for the iPhone, iPad and Android devices. We will also be offering a custom version of SongBook for the DSX1000, which will be available to download from iTunes soon. An Android version may also be available later on.
The DSX1000 is hand built in Kent with an advanced chassis and casework machined from aircraft-grade aluminium. The unit's top-plate has been carefully machined to reveal the technology beneath and an elegant internal lighting system compliments the aesthetic.
Technical Specifications:
• Harmonic distortion: < -103 dB (1kHz, 24-Bit @44.1kHz), -110dB (100Hz, 24-Bit @ 44.1kHz)
• Signal to noise ratio: > 120dB
• Channel separation: > 125dB @ 1KHz
• Dynamic range: 120dB
• Network input: 1 x RJ45 100 base T Ethernet
• Supported formats: wma-9, mp3, AAC, Ogg Vorbis, ALAC, AIFF (96KHz), FLAC, WAV
• Analogue outputs: Stereo RCA phono and balanced XLR line-level direct outputs; stereo RCA phono and balanced XLR volume control outputs
• Supported sample frequencies: 44.1, 48, 88.2, 96, 176.4 and 192kHz
• Line level output: 6V rms balanced; 3V rms unbalanced
• Output impedance: 75? (short circuit protected)
• Dimensions: 420mm x 355mm x 88mm (width x height x depth)
• Power consumption: 30W
• Operating voltage: 85 – 270V AC (50-60Hz) auto switching
• Weight: 12 kg
The new DSX1000 is now available at a MSRP of $13,000 USD.  Look for more details on this product at: www.chordelectronics.co.uk/products-info.asp?id=84.