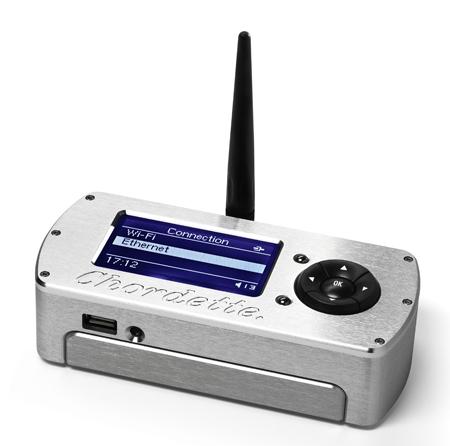 Chord Electronics has just introduced its first-ever music streamer and internet radio, named the Chordette Index. The new network music streamer & internet radio device will be shown at the upcoming Bristol Sound & Vision Show in the U.K.
The Index can locate music on a NAS drive, networked computer or USB connected thumb / hard-drive. As well, the Index can handle a variety of file types including: FLAC; WMA; AAC; WAV and MP3. Of special note is that the Index is also an Internet Radio tuner, using the vTuner service, allowing connection to more than 10,000 commercial-free stations and over 15,000 related podcasts.
Chord Electronics' engineering team, has focused on D/A conversion and the internal DAC to ensure high performance. The unit's internal DAC chipset has been optimized for sound quality, using its own highly accurate discrete crystal clock generator.
The Index can be fully remotely controlled using a tablet computer or smartphone, as the Index supports a number of control apps that are readily available. In addition, a high-quality integrated 128×64 dot matrix LCD display and four-way navigation buttons allow for user adjustment and control of the device. An infrared remote control is also provided.
Chord says the Chordette Index will be available in the UK at the end of February.
The all-new Index joins Chord's Chordette range at a MSRP of £990. Pricing and availability in North America is yet to be announced but you can look for more details at: www.chordelectronics.co.uk