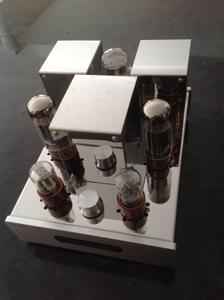 Coincident Speaker Technology has just announced its two latest stereo amplifier creations – the Turbo 845 SE and the Dynamo 34 SE tube amplifiers.  
The Turbo 845 SE is a dual mono construction that has been designed to provide high quality performance from a smaller package.  The amplifier is equiped with a remote control and a massive power supply that allows it to produce 28 watts-per-channel.  The design objectives for the Turbe 845 SE are said to be in keeping with achieving ultimate transparency, purity and flat frequency response.  The new  Turbo 845SE sits on the same chassis as Coincident Speaker Technology's Dragon MK II amplifier.  Key features are as follows: 
– Single ended 845 output- 28 watts per channel
– Pure dual mono with hard-wired construction
– 6EM7 input per channel, 300B driver tube per channel
– 3 Inputs
– Remote control
– 100 lbs.
– MSRP:$5,499 US
The new Dynamo 34 SE has been created to attract the budget conscious yet satisfy those that can't compromise sound quality.  The Dyname 24 SE is a single-ended-triode (SET) design with an output of up to 8 watts-per-channel, allowing it to work optimally with speaker that have a sensitivity of 90 db/1 watt/1 meter or greater. Coincident has designed the Dynamo 34 SE to compete with amplifiers in its class that are up to double its price.  This new amplifier has been created to meet price, quality and musicality objectives.  Key features include: 
– SET EL34- 8 watts per channel
– 6SL7 input/ driver tubes per channel
– 5U4 rectifier
– Hard wired construction
– Stainless steel mirror finish
– 22 lbs.
– MSRP: $999 US
Look for more details to be shared at: www.coincidentspeaker.com.