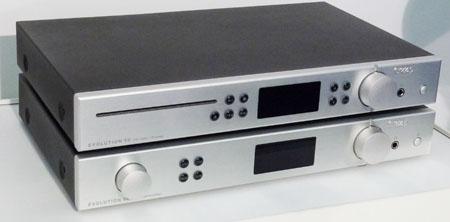 Creek Audio has introduced a new Evolution 50 series of components, comprised of a CD player and also an integrated amplifier. The components are currently being shown at the High End 2012 show in Munich.
With Creek celebrating its 30th anniversary, it seems fit for the company to bring in a series and pair of components that are aimed at taking entry-level hi-end audio to a higher level.
The CD player is named the Evolution 50D. It is a CD player, DAC and digital preamplifier.
The Evolution 50D has two optical and two SP/DIF digital inputs, plus an asynchronous USB 2.0 input. The USB input can handle up to 24-bit/192kHz content either driverless when used with Mac computers or with a Windows driver download. Driverless it's limited to 24/96 with Windows.
Outputs run to fixed or variable RCA or preamp-level balanced XLRs. There is also a class A headphone output stage.
The Evolution 50D's digital section utilizes a XMOS 32-bit event-driven multi-threaded processor. An OLED main display can show information such as a peak level meter, real time bit depth, and bit perfect test results.
The player has a dual-mono construction and will have an external power supply upgrade option, sometime in the future.
The Evolution 50A amplifier uses a new bipolar transistor power amp circuit delivering 50 watts-per-channel into 8ohms, or 75 watt-per-channel into 4ohms. It has four line inputs, including the option of adding either the Sequel phono stage or an internal tuner module, and the preamp section can also be bypassed completely when using the amp with the 50D, allowing the player/DAC's preamp section to take over volume control for digital sources.
Both the Evolution 50 series components will be available in silver or black in the next few months at a U.K. MSRP of approximately £500 apiece. Details on North American release and pricing are yet to be available.
Look for more details at: www.creekaudio.com.