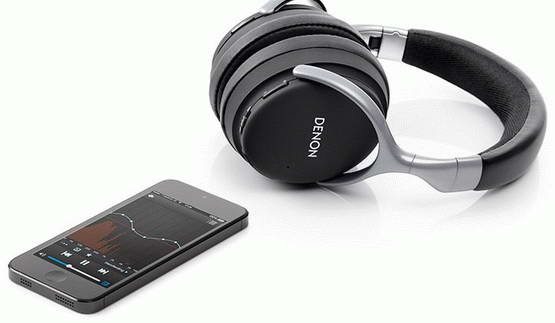 Denon has just announced a new wireless noise cancelling headphone to their Globe Cruiser series – the AH-GC20. The new AH-GC20 headphone has been designed to deliver a natural tonal balance free from exaggerated colorations. Denon measured more than 4,000 people's ears and distribution of facial structures, to ensure that the new AC-GC20 provided the best in sound quality and comfort.
The Denon AH-GC20 Noise Canceling Headphones feature a contemporary design, coupled to wireless technology that makes it a superb travel headphone. The elegant spur hanger uses aluminum to support an ergonomic ear cup filled with the latest active noise cancelling circuitry and Bluetooth connectivity. The dual microphone noise cancelling system provides the near elimination of outside sound, and the Bluetooth 4.0 Dual Mode with aptX/aptX Low Latency and AAC combined with the Multi-Point feature gives crystal clear connection to 2 compatible devices simultaneously. The AH-GC20 is also equipped with cVc (Clear Voice Capture), a sophisticated noise reduction system which enhances received audio quality and includes noise suppression, adaptive equalization, automatic gain control, echo cancellation, wind noise reduction and noise dependent volume control. With this technology, the AH-GC20's are designed to deliver the clearest voice quality even in harsh noisy environments. Voice prompts with seven language options offers a Status of Operation and remaining battery life.
The new Denon AH-GC20 will use the wireless headphones via Bluetooth most of the time, but for convenience a headphone cable is included for when wireless usage isn't permitted or preferred. The kit also includes a 3.5mm-¼" standard headphone plug adaptor for connection to home and studio audio gear, as well as an airplane adapter plug. The included USB Micro-B cable lets users charge the AH-GC20 lithium-ion battery from any USB charger or computer USB port. To enjoy a full 20 hours of wireless listening*, the AH-GC20 recharges in only three hours. If the battery is depleted and there's no USB port for recharging available, users can still enjoy listening to music via the included audio cable. The specially designed carrying case provides a home for the AH-GC20 along with all its accessories.
It adds up to the perfect choice for critical music listening in harsh noisy environments and while travelling. AH-GC20. It is expected to available beginning in April for $399.00 MSRP. Look for more details at: http://ca.denon.com