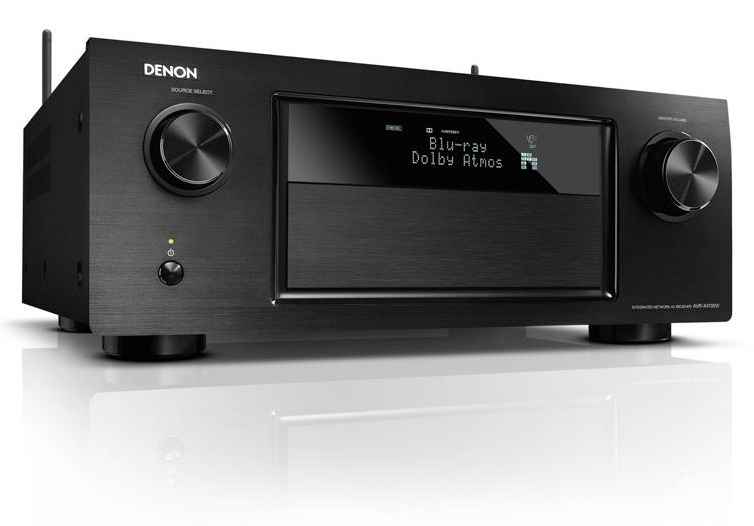 Denon has just announced two additions to its new X Series network AV receiver line the AVR-X4100W and AVR-X5200W.  Both come with the latest Dolby Atmos for the highest level of involvement.  
The new AVR-X4100W delivers 200 watts per channel and incorporates the highest resolution audio decoders like Dolby TrueHD and DTS-HD Master Audio, as well as DTS Neo:X, Audyssey DSX and Dolby Pro Logic IIz for an even more realistic surround experience using height or wide speakers. The AVR-X4100W features Denon's own D.D.S.C.-HD circuit with renowned AL24 Processing Plus, and also has a Denon Link HD connection for jitter-free transmission from a supporting Denon Blu-ray player. This new receiver features the most advanced Audyssey MultEQ XT 32 (Pro ready) room calibration with Sub EQ HT and LFC.
The AVR-X4100W also includes Dolby Atmos which includes overhead channels.  Thanks to its four DSP (Digital Sound Processing) engines, the AVR-X4100W has enough processing power to run an Audyssey calibrated nine channel Dolby Atmos layout.  By adding an additional 2-channel power amplifier, the Dolby Atmos experience can thus be expanded by using 5.1.4 or 7.1.2 configurations. A 5.1.4 speaker configuration is based upon a traditional 5.1 speaker layout complemented by 4 overhead or Dolby Atmos-enabled speakers. A 7.1.2 configuration is based on a 7.1 speaker layout with 2 overhead, or Dolby Atmos-enabled speakers.
The new X series AVRs have built-in Wi-Fi to easily connect to a home network, and Bluetooth to connect mobile devices with the touch of a button.  Users can stream their own music most conveniently from Apple iDevices via AirPlay, or access their music library on DLNA compatible devices like a network attached storage device (NAS). Moreover, users can choose from thousands of Internet Radio stations and enjoy music from Spotify via the latest Spotify Connect scheme (where available; subscriptions required) as well as Pandora and SiriusXM.
A front USB port is provided to connect either USB storage devices, or an iDevice to playback music.  As well, a Denon Remote App is available for iOS and Android devices, and the further improved Setup Assistant and Advanced Graphical User Interface make it easy to set everything up.  
With in total 8 HDMI inputs and 3 HDMI outputs, the AVR-X4100W is ready to take over full control of literally all digital devices such as Blu-ray players, media players, video cameras and more at the same time. The AVR-X4100W's advanced video processor is equipped to handle future 4K Ultra HD 50/60 Hz full rate content as well as featuring 4:4:4 Pure Color 4K sub-sampling pass-through, both features of the latest HDMI specification. It even has the ability to upconvert and transcode standard definition and high definition video sources up to 4k Ultra HD 50/60 Hz resolution for the ultimate viewing experience.
To sum it up, the AVR-X4100W owns advanced multi-zone, pre-out and custom installation options to become a true entertainer for the whole home. At the same time, Denon developed a new Eco mode featuring a unique power consumption management that adds to the company's green environment policy without compromising on performance and sound quality.
The top model in the X-Series is the new AVR-X5200W comes with the same feature set as the AVR-X4100W, but further adds unique technologies. It has a powerful nine channel amplifier with 205 watts per channel packed in a discrete monolithic amplifier design with custom made DHCT (Denon High Current Transistors) and supports speaker setups beyond its nine power amplifiers stages, thanks to its ability to process even 11.2 channels. The AVR-X5200W supports a 5.1.2, 5.1.4, 7.1.2, and even a full 11 channel Dolby Atmos setup; taking advantage of 7.1.4 or 9.1.2 Dolby Atmos configurations. A 7.1.4 speaker configuration is based upon a traditional 7.1 speaker layout complemented by four overhead, or Dolby Atmos-enabled speakers. A 9.1.2 configuration is based on a 9.1 speaker layout with two overhead speakers. This is connectivity, versatility and power to the extreme.
AVR-X4100W 7.2ch Network AV Receiver – Key Features
200W x 7ch high quality discrete power amplifier for powerful and detailed sound
D.D.S.C.-HD with AL24 Processing, Denon Link HD
Built-in Wi-Fi with dual antenna, built in Bluetooth
Latest HDMI standard with 4K Ultra HD 50/60 Hz Pass-through and 4:4:4 color resolution
Advanced Video Processing with upscaling up to 1080p and 4k Ultra HD 50/60Hz
8 HDMI inputs (incl. 1 front), 3 HDMI outputs (2 main + zone)
Dolby Atmos (5.1.2, 5.1.4*, 7.1.2* configuration)
Audyssey DSX and DTS Neo:X 9.1ch processing
Wide support for streaming formats including DSD and AIFF streaming
AirPlay and DLNA music streaming; Spotify Connect, Pandora and SiriusXM (subscription required)
Advanced ECO mode with off/on/auto setting
Audyssey MultEQ XT32 / Sub EQ HT / LFC (Pro ready)
Audyssey Dynamic Volume and Dynamic EQ
RS232 control
Phono input
125 watts per channel (8ohm, 20-20kHz, THD 0.05%)
3 source, 3 zones; 9.2ch processing and 13.2ch pre-out
Improved Setup Assistant and Graphical User Interface (Hybrid GUI, 9-languages)
Available in black
AVR-X5200W 9.2ch Network AV Receiver – Additional Features
205W x 9ch high quality discrete power amplifier for powerful and detailed sound
Monolithic amplifier design with Denon custom made transistors
Dolby Atmos (5.1.2, 5.1.4, 7.1.2, 7.1.4*, 9.1.2* configuration)
Audyssey DSX and DTS Neo:X 11.1ch processing
11.2ch processing and 13.2ch pre-out; gold-plated terminals
140 watts per channel (8ohm, 20-20kHz, THD 0.05%)
The AVR-X4100W ($1,399 U.S.) and AVR-X5200W ($1,999 U.S.) are expected to be available in October 2014.  Look for more information at: www.denon.com