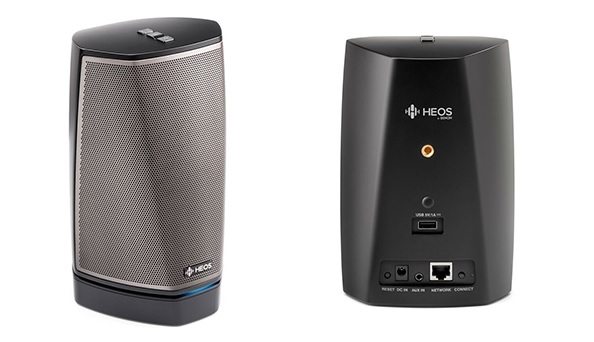 Denon Electronics just recently announced their new HEOS 1 and HEOS 1 Go Pack products for their wireless multi-room sound system line. The portable HEOS 1 wireless speaker is the first product offered in the line and is designed for both indoor and outdoor use. The HEOS 1 Go Pack extends the usability and features of the HEOS 1.
The new HEOS 1 (MSRP $199 U.S.) is designed with audiophile grade synchronization to deliver great stereo imaging without echo and incorporates state-of-the-art audio DSP optimization. HEOS 1 is embedded with MaxxAudio by Waves – a suite of state-of-the-art sound technologies customized to provide top-of-the-line sound quality for an optimized listening experience. With the easy to use free HEOS app, setup is simple and fast for indoors or outdoors. The HEOS 1 has been designed with small spaces in mind but with the Go Pack, HEOS 1 expands into a speaker that takes multi-room listening outdoors – pool, patio or park.
The HEOS 1 Go Pack (MSRP $99 U.S.) is an accessory pack consisting of a rechargeable battery, a Splashguard, and a Bluetooth-USB adapter, providing up to 6 hours of playback and resistant to humidiy. With the addition of the Splashguard it becomes IPX4 splashproof for added protection at outdoor events that may occur in the rain or poolside. The Go Pack's Bluetooth-USB adapter allows the user to stream Bluetooth audio directly to one HEOS 1 speaker or when Wi-Fi is available, the Bluetooth audio can be shared with other HEOS devices.
HEOS brings Denon-quality audio to any—or all—rooms in the home by easily connecting to an existing Wi-Fi network via the HEOS app, available for iOS, Android and Kindle Fire. The system delivers users' favorite music from the world's leading music services like Spotify, SiriusXM, Pandora, Rhapsody, TuneIn, iHeartRadio, as well as smart devices, PCs, Macs or NAS drives on any home network.
HEOS 1 Key Features:
» Best-in-Class Sound
» Humidity Resistant
» Play any source from any smart device via the HEOS app: streaming cloud music services, directly from phone and tablet, USB, network storage, aux in
» Dual-band Wi-Fi
» USB input directly to speaker
» Bi-Amped 2-way system with custom active EQ and crossover
» Custom woofer and high dispersion tweeter powered by a 2-channel Class D amplifier
» Easy setup
» Intuitive industrial design for portability
» Audiophile grade synchronization
» Great stereo imaging – use 2 HEOS 1 speakers as a stereo pair
» MaxxAudio® by Waves technology
» Easy-to-use app with three tabs- one-touch access to most-used features
» Optional HEOS 1 Go Pack available
» Available in black and white
HEOS 1 GO PACK – Key Features
» Optional accessory pack for use with HEOS 1 wireless speaker
» Bluetooth – play any audio from your phone or tablet when Wi-Fi is not available
» Rechargeable battery – 6 hrs of playback from the custom base-fitted battery
» Splashguard upgrades HEOS 1 from steam-resistant to full IPX4 protection
» 4 LED battery indicator
» Available in black and white
Besides the HEOS 1 and HEOS 1 Go Pack, the Denon HEOS series includes three other wireless multi-zone music players: HEOS 3 ($299 U.S.), HEOS 5 ($399 U.S.), and HEOS 7 ($599 U.S.). The HEOS Amp ($499 U.S.) and HEOS Link ($349 U.S.) allow you to integrate legacy systems into the HEOS eco-system. Also part of the series is a Wi-Fi range extender HEOS Extend ($99 U.S.).
The Denon HEOS series will expand with new products in the near future. Look for more information at: http://usa.denon.com/ca/heos.