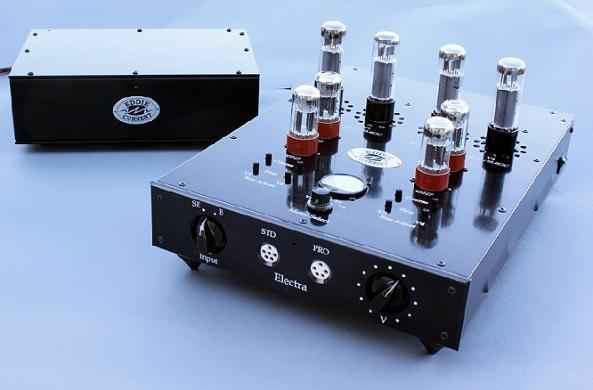 Eddie Current, a high-end audio company specializing in hand-crafted, vacuum tube amplifiers, has now released their new Electra electrostatic tube headphone amplifier.  The Electra, has been developed to handle the difficult power requirements that electrostatic headphones present.  Using vacuum-tube technology and coupling magnetics, the Electra is said to provide richness within a lively, transparent soundstage – a sought-after combination of traits associated with electrostatic headphone listening.
Features of the Electra include custom-made Eddie Current headphone sockets, one for the standard 580V bias and the other user defined; polished top plate; laser-etched nomenclature; and a separate, compact power supply unit. 
Specifications/Features:
Vacuum tube with coupling magnetics and only a single poly-propylene capacitor in the signal path.
Fully balanced designed from input to output
Frequency response: 20Hz to 20KHz +/- 0.4 dB
Signal-to-noise ratio: 80dB un-weighted (Broadband) below 100 VRMS out and 95dB below 100 VRMS A Weighted
THD: Less than 0.25 % @ 300 VRMS out. Less than 0.1% 100 VRMS out.
Gain: 1125x / 61dB SE Input (RCA) 400X / 52dB Balanced (XLR)
Equivalent sensitivity for 100 volts out from the single ended input – 90mv
Equivalent sensitivity for 100 volts out from the balanced input – 250mv
Tube compliment: 6SN7 Only for input and second-stage; EL34 or 6L6GC for output stage
Input impedance: 10K ohms
Output voltage: 525VRMS / 1485V peak-to-peak
Inputs: SE-RCA or BALANCED-XLR
Outputs: 2 STAX style headphone jacks Pro with 5 pins
Bias voltage: 580 Volts – Pro.(Other voltages may be accommodated with accessory adapter. Overdriving certain type headphones may damage them.)
The new Electra has been made available for order at an original introductory price of $3500.00 U.S. which includes 4 Mullard EL34 tubes, and 4 Tung Sol 6SN7 tubes.  An upgrade option to Jentzen silver caps, replacing the standard Wima caps, is available for $50.00 U.S.  For more information, visit: www.eddiecurrent.com.