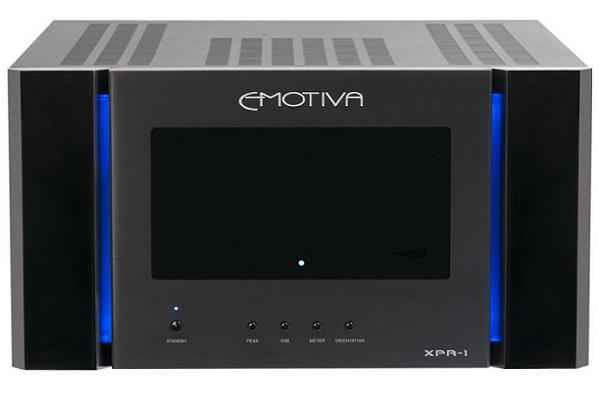 Emotiva has just now made available their new XPR-1 Reference Series fully balanced mono-block power amplifier.  The XPR-1 is  a 1000 watt mono-block amplifier that can deliver nearly two thousand watts into 4 ohms.  
Emotiva claims the new XPR-1's fully balanced Differential Reference design topology delivers pinpoint imaging, high detail and creat control.  With such high power reserves, the XPR-1 is well set to drive the most difficult of speakers. 
The XPR-1 features a precision-machined, 1" billet aluminum, multi-element faceplate, with laser embossing, and hand polished detailing. Massive gold-plated input and output connectors are on hand to ensure maximum signal fidelity and lossless power transmission. Inside, a huge 2.5kVA toroidal transformer—itself weighing over 30 lbs.—along with a massive low ESR capacitor bank powers a fully balanced, audiophile caliber Optimized Class H power amplifier crafted from premium components, including precision metal film resistors, film capacitors, multilayer glass epoxy PCB's. Advanced operating features, extensive circuit protection, versatile and innovative output metering system are under the control of a powerful ARM microprocessor.
Key Features:
– Fully balanced, fully discrete, quad Differential Reference™ circuit design.
– Fully complimentary topology.
– Ultra high current, triple Darlington output stage.
– 18 high performance 250 watt output devices, for a total of 36.
– Effortlessly drives complex speaker loads with ease; stable with virtually all real-world speakers.
– Optimized Class H™ power design with high operating efficiency.
– 2.5 kVA toroidal transformer for exceptional power reserves.
– Switchable balanced (XLR) and unbalanced (RCA) inputs.
– Audiophile-grade, gold plated, super heavy-duty speaker terminals and machined RCA input connectors.
– Multi-element 25mm CNC milled billet aluminum faceplate.
– Variable intensity accent lighting and user-selectable stealth illumination mode.
– LED bar graph metering system with selectable ballistics; VU and Peak reading with auto release.
– Metering can be oriented for left reading, right reading, or vertical.
– Channel status LED's indicate high temperature and fault conditions.
– Soft touch power button with in-rush limiting.
– Trigger input and output for linking to other trigger-enabled equipment.
– Switchable AC line voltage operation—115 VAC or 230 VAC /50-60Hz (auto switching).
Currently available for order direct from Emotiva at a MSRP of: $1,499.00 U.S. (free shipping in the U.S.).  Look for more details at: www.emotiva.com.