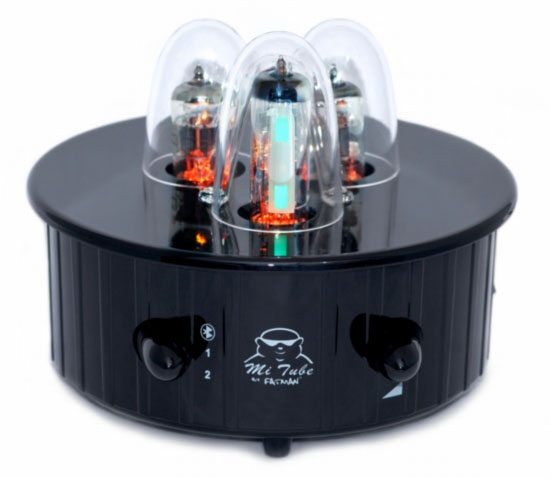 Audio manufacturer Fatman has just launched the Mi-Tube, the latest addition to its range of designer valve-based audio systems.
Despite its compact dimensions (183x145mm), Mi-Tube delivers a powerful 28W of audio per channel, with an output impedance of 4/8 Ohms and signal to noise ratio of 86dB. The amplifier also utilizes a radical new hybrid valve design, the basis of which was first suggested in a theoretical paper produced over 50 years ago.
Like other products in the Fatman range, Mi-Tube has been designed to enable portable device users to benefit from the high level of sound quality that a valve-based amplifier system has to offer. In addition to two standard pairs of RCA phono inputs for connecting CD players and other line level sources, Bluetooth connectivity enables audio to be streamed wirelessly, allowing the amplifier to be used with any compatible Bluetooth-enabled device, as well as with Smartphones, Laptops, iPhones, iPads and iPods.
Mi-Tube is currently available in glossy white and black finishes, but several custom top covers are also planned including a Union Jack in readiness for the UK's Diamond Jubilee and Olympic celebrations and a crystal encrusted "bling" top for the fashion conscious.
For more info, please visit www.fat-man.co.uk