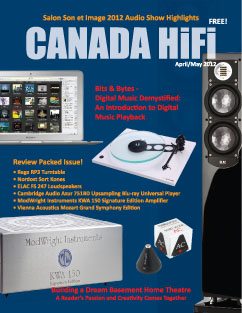 The digital edition of the April/May 2012 issue is now available in the Digital Editions section!
Features inside this issue include:
Salon Son et Image 2012 Highlights
Bits & Bytes – Digital Music Demystified: An Introduction to Digital Music Playback
2012 CES Highlights: A Look at the Latest Tech Coming Your Way This Year
Building a Dream Basement Home Theatre: A Reader's Passion and Creativity Comes Together
Reviewed inside:
Rega RP3 Turntable
Nordost Sort Kones
Cambridge Audio Azur 751BD Upsampling Blu-ray Universal Player
ELAC FS 247 Loudspeakers
ModWright Instruments KWA 150 Signature Edition Amplifier
Vienna Acoustics Mozart Grand Symphony Edition
Click HERE to jump to the Digital Editions page
iPad/iPhone/iPod touch users – please open the CANADA HiFi App on your Apple device and you will now see this new issue on the home page of the App (pull the home page down with your finger to update if the latest issue doesn't appear automatically). If you haven't downloaded the free CANADA HiFi App just yet, please do so from the App Store on your device.