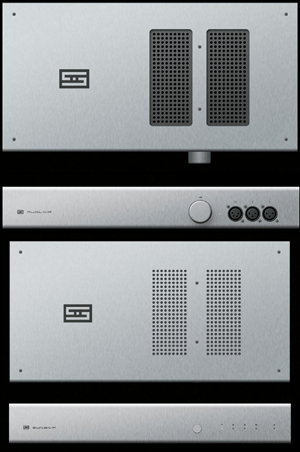 Schiit Audio has just announced its first balanced products, the Mjolnir balanced headphone amplifier and Gungnir balanced upgradable DAC that are designed purported to offer top-level performance at mid-level prices.
The Mjolnir's maximum output is 8W RMS per channel into 32 ohms, or 5W RMS per channel into 50 ohms, to meet the needs of even demanding orthodynamic headphones.  In addition, the Mjolnir's noise floor is said to be low enough to be used with even sensitive headphones such as those from Grado.  Mjolnir is the world's only dedicated circlotron-style headphone amp.  The Mjolnir uses 18dB JFET-based voltage gain on 90V rails into a cross-shunt push/pull output stage with only N-channel Mosfets plus DC-coupled i/o ports to provide high power output.  Frequency response is a wide 2Hz to 400kHz -3dB.  Using the circlotronic output stage, connections are exclusively balanced, with outputs on single 4-pin XLR and dual 3-pin XLRs.
The Gungnir is a hardware-balanced DAC, with two AKM4399 D/A converters, fully discrete analog section and differential summing for single-ended output.  Its analog stage offers DC coupling from input to output, as well as high operating voltage and low-noise JFETs for excellent THD and noise performance.  Gungnir offers the most advanced clock regeneration system available in any DAC.
The Mjolnir is expected to ship in June 2012, at a retail price of $749 U.S., and Gungnir in August 2012, at a MSRP of $749 U.S. (without USB), and $849 U.S. (with USB).
Look for more information at: www.schiit.com.