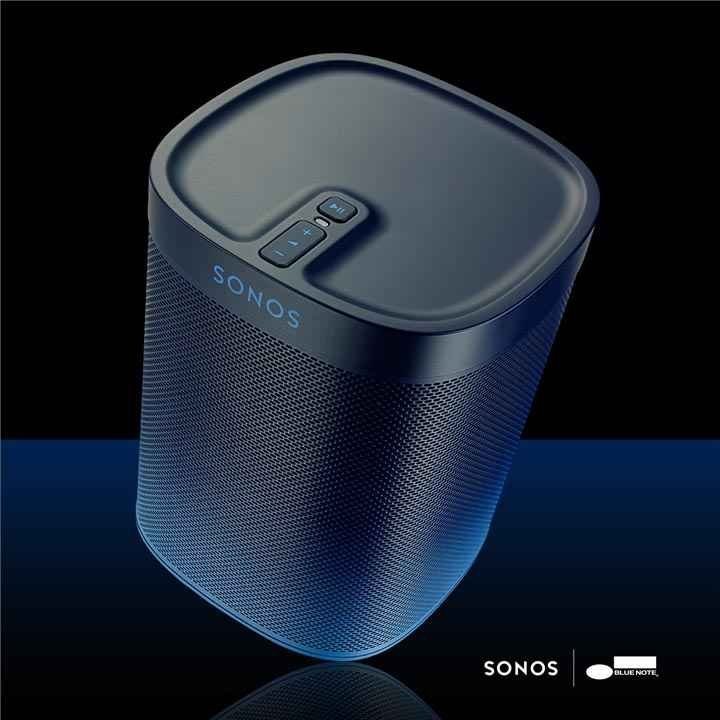 To celebrate the launch of the Sonos Blue Note PLAY:1 Limited Edition Speaker we will be giving one away!  To put your name in the draw, simply join the monthly CANADA HiFi / TAVES Newsletter at novo.press/sign-up-for-our-newsletter.
The Blue Note PLAY:1 is Sonos' first-ever limited edition speaker, designed to pay tribute to jazz legends, their art, and a record label founded on creating a timeless experience with music that captures the energy and emotion of a live performance.  Crafted with a custom colour developed through hand-painting techniques and strategic use of robots, the speaker's finish features a vertical fade from dark navy to cerulean blue, reflecting the deep bass to the richly detailed highs and lows that people know and love about the PLAY:1.
The Blue Note PLAY:1 comes with the Blue Note on Sonos radio station built into the main menu in the Sonos app, powered by TuneIn. Enjoy a year of Blue Note programming with three curated channels within the station:
Artist Selects: Available exclusively on the Blue Note PLAY:1, listen vinyl-style to handpicked selections from the greats like Robert Glasper, Jose James, Terence Blanchard, Ambrose Akinmusire, Lionel Loueke, and Don Was himself, who has curated 125 of his personal favorites.
Born in Blue: Brings together legendary Blue Note artists and those who have sampled them for mixes that celebrate the intersection of modern music and legendary jazz.
Blue Note 101: Starting with the inception of Blue Note and following its progression to becoming an iconic label, listen and learn about jazz and its evolution over more than 75 years.
You can enjoy the Born in Blue and Blue Note 101 channels on your Sonos at home today and also on your other devices via TuneIn.
The Blue Note PLAY:1 will be sold exclusively on Sonos.com for $280 CAD, starting next Thursday (March 5th). The production of this speaker is limited to 4,100 units.
To qualify for this giveaway please sign up for the CANADA HiFi / TAVES Newsletter at https://novo.press/sign-up-for-our-newsletter/.  This giveaway is valid until March 19th and open to all Canadian residents (with the exception of Quebec).  A winner will be announced a few days after March 19th.