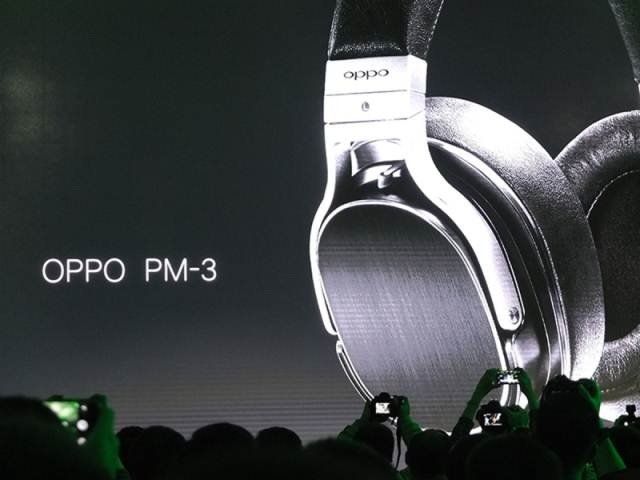 OPPO Digital has just followed up its recent release of the HA-2 portable headphone amplifier with a new headphone – the new PM-3 Closed-Back Planar Magnetic Headphones – designed for music on the go.
The OPPO PM-3 pulls together audiophile performance with noise isolation and portability within a lightweight stylish planar magnetic headphone.  At just over 10 oz., the PM-3 is the world's lightest closed-back planar magnetic headphone design, according to OPPO Digital, making it ideal for those who want planar magnetic sound on the go.  Comfort along with sound isolation is key to its design with the intent of providing hours of uninterrupted sound.
Key features:
• Planar magnetic drivers for superb sound
• Closed-back design for privacy and noise isolation
• Light weight, comfortable with high sensitivity for mobile use
• Elegant styling and exquisite workmanship
The OPPO PM-3 utilizes a planar magnetic driver that is derived from the EISA award-winning PM-1 headphones. Technological breakthroughs achieved during the PM-1's development, such as the 7-layer double-side voice coil diaphragm design and FEM-optimized neodymium magnet system, have enabled OPPO to reduce the weight of the planar magnetic drivers while maintaining excellent sound quality and high sensitivity.
In the PM-3's planar magnetic driver, sound is generated by a very thin and light diaphragm which is driven in a symmetric pull-push manner, and the magnetic system and conductor patterns have been optimized for maximum sensitivity and consistency. This allows the diaphragm to generate very stable and linear piston-like vibrations, ensuring phase coherence and high resolution performance with minimal distortion.
The all-new 55 mm diameter round driver is especially suitable for a lightweight close-back design like the PM-3.  The PM-3 maintains the very natural and smooth sound signature of the PM-1, and is tuned to have deep, tight bass and a touch of excitement.  With its deep bass, smooth midrange, and clear treble, the PM-3 delivers a very natural and balanced sound with plenty of emotion and impact.
The new PM-3 is currently available at a MSRP of: $399 U.S. and comes with one long cable (for home) and one shorter cable (for mobile use).  Look for more details to be made available at: https://www.oppodigital.com.