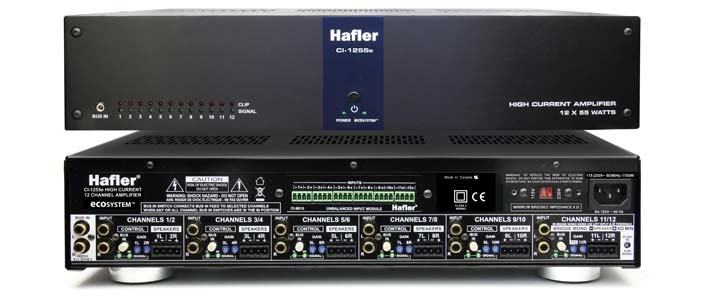 Hafler (a division of Radial Engineering Ltd.) will launch a brand new series of multi-channel amplifiers, called the Hafler CI series, designed for the custom installation market this spring.
The new series will include three multi-zone amplifiers: the 6 channel CI-6120e, the 8 channel CI-855e and the 12 channel CI-1255e. Common features among the three models include a compact footprint that is only 3.5″ (8.9 cm) high, 17″ (43.2 cm) wide and 11.5″ (29.2 cm) deep, RCA inputs and an all-channel bus input for easy routing. Class-AB circuit topology for the most demanding listening needs, Hush-Tone fan cooling technology, rear-panel level controls and signal status LEDs, and easy to use detachable Euroblock (Phoenix style) speaker connectors for quick and secure termination are also features shared by all the models. To save energy, all three amps are equipped with ecoSYSTEM – an innovative circuit that shuts the amp off when not in use after 1 minute, and automatically restarts individual amplifier channels in less than 10 milliseconds.
The CI-6120e delivers 120 watts per channel to 3 stereo zones and is equipped with RCA throughputs and balanced detachable Euroblock connectors for greater connectivity options. The CI-855e delivers 55 watts per channel to 4 stereo zones and channels 7 and 8 may be bridged mono to power a subwoofer with over 120 watts at 8 Ohms. The CI-1255e also delivers 55 watts per channel but this time to 6 stereo zones and is equipped with the same bridge-mono functionality using channels 11 and 12. All three amplifiers are equipped with Omniport – a plug-in module that can be used to add various functions such as Euroblock connectors, Jensen-transformer isolated inputs, or a Dante digital networking card to connect the Hafler amp to an Ethernet hub. Power may be derived from either a 115V or a 230V supply via the internal dual-tap toroidal transformer to accommodate installations around the globe.
For more info, please visit www.hafler.com