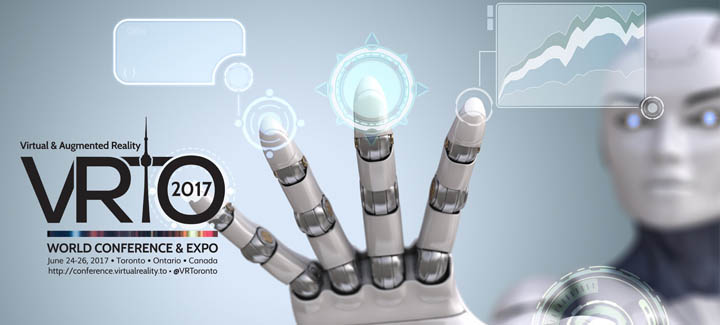 Are you interested in fast-tracking into the Virtual & Augmented Reality industries, leveling up your existing offering, or turning a corner into new ideas, networks, and opportunities?
VRTO (Virtual Reality Toronto), brings the best and the brightest from around the world under one roof for this internationally recognized and critically-acclaimed symposium in Toronto, Canada. Known for its ground-breaking talks, roundtable discussions, intensive training, onboarding workshops, structured networking events, and themed pavilions, it's the largest conference on the eastern seaboard of North America, featuring over 65 speakers, and 10+ active rooms, halls and studios focused like a laser on VR & AR.
Maximize your time building a business or product, or expanding your research and development resources for Experiential technologies! Find out why Huffington Post wrote, "VRTO will change the face of VR."
VRTO Virtual & Augmented Reality World Conference & Expo – at Toronto's Rogers Communications Center – June 25th-26th. Get tickets now at https://www.eventbrite.com/e/vrto-2017-virtual-augmented-reality-world-conference-expo-tickets-32927104857?aff=VRTOAFF2017
Use promotional code VRTOAFF2017 at checkout for 20% off all regular ticket types (or bonus discount during Early Bird pricing)!