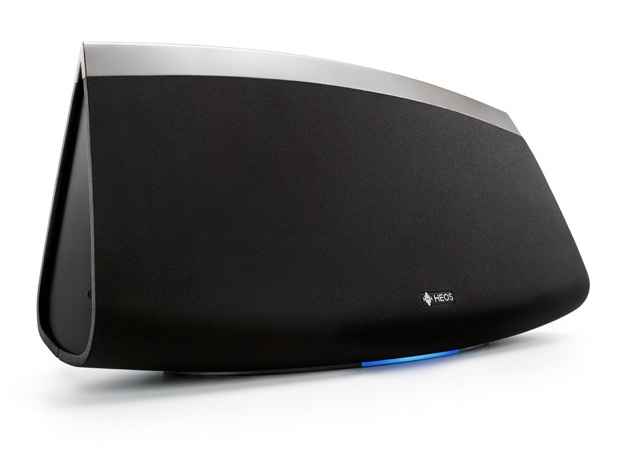 Denon Electronics, has just announced their new wireless multi-room sound system – the HEOS.  The HEOS by Denon includes three stunning, wireless multi-zone music players.  These music players offer easy access to the most popular cloud music services and familiar Wi-Fi setup.  A  single app allows control of whole home audio via iPhone nd Android devices. An optional access point range extender will be available to improve or expand the users existing home wireless network.
 Here's why the new system's sound quality stands alone:
Audiophile synchronization: The system is designed with new technology that makes for an incredible level of synchronization, a level even audiophiles can appreciate.
Advanced DSP technologies: Denon partnered with Waves Audio to integrate the latest in digital signal processing (DSP) technologies.  HEOS by Denon uses embedded MaxxAudio by Waves, a sophisticated sound enhancement suite customized to provide top-of-the-line sound quality for an optimized listening experience.    
Ease of setup and use: The HEOS provides an intuitive and well-designed whole home control via the Denon Controller app for iOS and Android, making it easy and convenient to set up and operate the players via wireless devices.  Utilizing an existing home Wi-Fi network, the players connect effortlessly – for music listening within minutes of unpacking.  
Wi-Fi Connection: Denon's dual-band Wi-Fi uses modern Wi-Fi networks to their fullest advantage. The system integrates dual band 802.11n Wi-Fi to provide long range and bandwidth.  Dual-band means significantly reduced interference.  Denon also offers an optional Range Extender. 
With USB, the HEOS by Denon Multi-Room-Wireless Sound system allows users to also stream music collections stored on a hard drive and thumb drive.  Play content locally to another Denon wireless speaker, or to all Denon wireless speakers with playback times that don't miss a beat when it comes to responsiveness.
The initial HEOS by Denon Multi-Room Wireless Sound System release includes three music players (MSRP range from $299-$599) that will be available in late June.  Following up this inital release, Denon will be introducing pre-amp/amp expansion products that are able to drive passive speaker systems, allowing for greater functionality with legacy audio products.  These pre-amp/amp products will be released post-June and into 2015.  Look for more information on HEOS by Denon at: www.Denon.com.
Comments are closed.