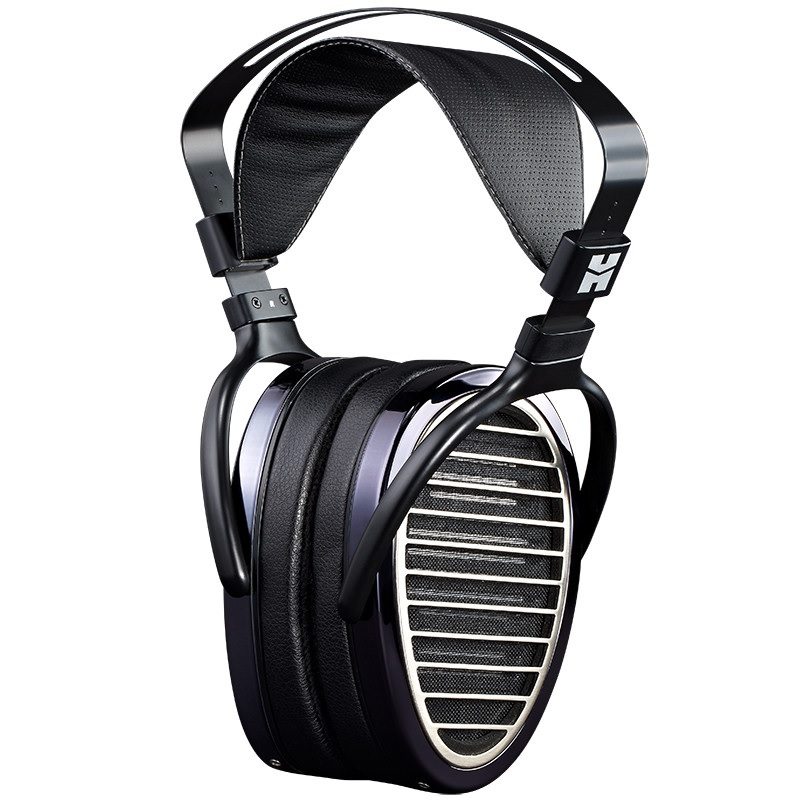 HiFiMAN has just announced their latest full-size, open-back, planar magnetic headphone – Edition X. The new Edition X headphone leverages the technology of HiFiMAN's own flagship HE1000 headphone.
The new Edition X headphone features asymmetrical ear cups, beveled hybrid ear pads, window shade grill design and ergonomic headband. Weighing only fourteen ounces and boasting a remarkable sensitivity of 103dB, Edition X can easily be driven by most portable audio devices such as a smartphone or iPod.
To take advantage of the ultra-thin driver on Edition X, HiFiMAN engineers designed an Advanced Asymmetrical Magnetic Circuit. To achieve an optimum balance between high driver efficiency and high sound quality, HiFiMAN has come up with an new innovative double-sided, asymmetrical magnetic circuit that perfectly mates the X's planar diaphragm and its magnetic partner.
Window Shade Grill System
HiFiMAN needed to create a special design solution that provides driver protection, is optimized for an open-back design and that also yields the best possible sound quality. For Edition X, a patented "Window Shade" grill made with premium alloys was the solution, precisely structured to gain greater openness in the headphone design. Its openness keeps the sound waves from second refraction to avoid unwanted vibration and distortion. The result is a wider soundstage, outstanding imaging and remarkable clarity. Aesthetically, as an added benefit, the Window Shade Grill also provides a unique look to Edition X and an appropriate complement to the high-tech Mylar finish of the ear cups.
Asymmetrical Ear Cups + Beveled Hybrid Ear Pads
The premium ear pads of Edition X have been specially designed in an asymmetrical shape that follows the form of the ear cups. The pads are beveled so that they contour to the shape of the user's head for superb comfort and extended listening as well as a good acoustic seal. The hybrid design has velour on the surface for optimal comfort and sound
Ergonomic headband
The Edition X headband is the result of clever industrial design. Entirely new thinking was needed that would accommodate the widely varied sizes of people's heads while applying or distributing correct pressure evenly. This provides not only improved comfort but also a better seal of the pads around the ears and on the head for improved bass.
The headband combines a lightweight metal alloy with soft pleather to form a sturdy arch structure. The perforations in the headband help to dissipate the heat. For additional comfort, the light mass also contributes to lessen the overall weight of the headphone.
Premium Cabling
HiFiMAN only uses the finest cables for their headphones and each model features a cable specially designed for it. Edition X is supplied with a high performance cable made of single crystal silver, designed for wide frequency range, low signal loss and enhanced emphasis on the low end for quality audio reproduction. The cable package includes two different types of plugs: mini (6.35mm) and 1Ž4" (3.5mm) so it can be used with a wide array of source equipment. The plugs are easy to switch and quickly connected to different cables and amplifiers.
According to HiFiMAN Founder and President, Dr. Fang Bian, "Following up on the wonderful success we have had with HE1000, I wanted to offer a headphone with similar features and performance yet one that would be more portable and not require a large expensive amplifier. With Edition X, we reduced the weight and greatly increased the sensitivity so that it sounds very good off a smartphone. Having a headphone like Edition X in our lineup will allow us to reach a wider audience of music lovers."
Key Features:
•Ultra-Thin Diaphragm inspired by years of r&d, advanced planar magnetic driver reduces weight while lowering distortion and improving efficiency.
•High sensitivity of 103dB allows Edition X to be easily driven by virtually any portable audio device such as a smartphone, iPod etc.
•Advanced Asymmetrical Magnetic Circuit- double-sided magnetic circuit provides perfect control of the driver for lifelike clarity and sonic precision.
•Asymmetrical Ear Cups- form follows function as these ear cups are designed to properly fit the shape of the human ear.
•Beveled Ear Pads- asymmetrical shape perfectly follows the contour of the human head for an optimum acoustic seal and sublime comfort
•Ergonomic Headband accommodates a wide range of head sizes and applies pressure evenly assuring maximum comfort for extended periods.
•Window Shade Grill System- provides greater openness and a wide soundstage by reducing unwanted reflections and distortion.
•Specially-designed Single Crystal Silver cable is user-replaceable and features convenient plug-in connectors.
Availability and Pricing:
HiFiMAN Edition X is available now with a MSRP of $1799 U.S. Look for more information to be shared at: http://www.hifiman.com