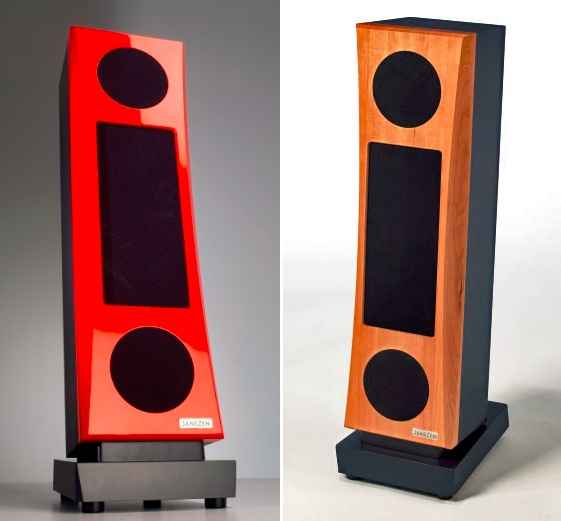 JansZen has just introduced a new sibling to their zA2.1 passive electrostatic hybrid loudspeaker; namely, the new self-amplified (active), floor-standing electrostatic hybrid zA2.1A.  The new JansZen zA2.1A uses JansZen's new Act of Nature (AoN) drive system, which JansZen calims provides sonic improvements over the passive zA2.1 model, in a number of areas including: clarity, timbre, tonal balance, and musicality.  
The new zA2.1A is an internally bi-amplified loudspeaker system with each cabinet incorporating two 190W/8Ω amplifiers.  JansZen's AoN system mates the two ampliers to an advanced signal processing technology that creates an 8th order crossover (48 dB/octave) whose Bessel characteristics result in very low ripple and phase skew.  The main benefits of such a high order cross-over are minimal acoustical interference between drivers, and a more correct relationship between musical tones and overtones.
The active crossover cuts losses and improves linearity, short speaker leads avoid the potentially negative effects of external speaker cables and a equalization trims away minor response deviations.
The zA2.1A has a balanced input, easily adapted to single ended if needed. On the back of each zA2.1A, there's a gain control to match the scale of any source output for best signal to noise ratio. For those with high grade portable sources, JansZen's AoN system is designed with enough gain to produce full volume when connected directly to sources with as little as 1V RMS maximum output.
The zA2.1A ships from the factory with four pushbutton selected sonic profiles. The standard selections are:
Natural – correct tonal balance when played at realistic levels, from 30 Hz to 30 kHz
Quiet  – compensates for ear sensitivity differences at lower volumes
Natural Near Field – gives proper driver convergence at close listening distances
Quiet Near Field – for quiet listening at close listening distances
Pricing on the new zA2.1A ranges from $11,745 U.S./pair, depending on finish and options.  For more information, visit www.janszenloudspeaker.com.
Comments are closed.