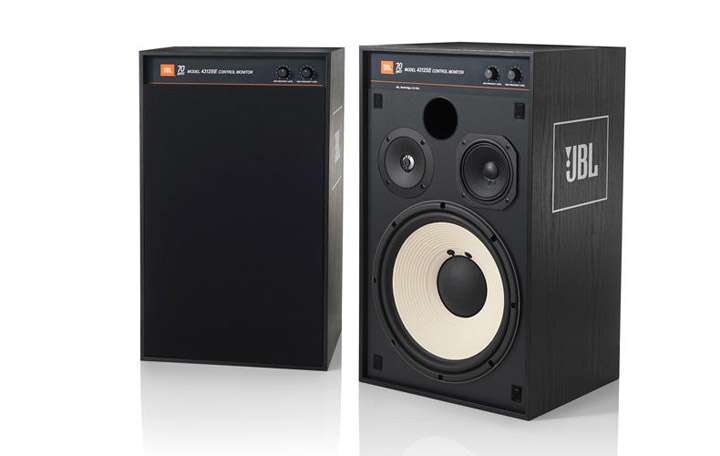 JBL's new 4312SE high-performance, 3-way studio monitor loudspeaker was developed to celebrate the brand's 70th anniversary in style.  This speaker is a direct descendant of the legendary JBL 4310/4311 family of speakers and maintains the iconic 12-inch, 3-way design that set the standard for recording monitors in the 1970s. In that classic fashion, the 4312SE promises crisp, powerful bass along with realistic and dynamic highs, even at the highest listening levels.
In classic studio monitor fashion, they can be positioned horizontally or vertically and with the tweeters to the inside or outside of the listening position, and they can be shelf or stand-mounted. This flexibility makes them capable of serving equal duty in small, intimate listening environments or in larger rooms without sacrificing the detail and coherent stereo soundstage and image quality that studio monitors must have.
Utilizing a compact monitor-type footprint, the 4312SE features advanced JBL transducers including the 12-inch cone woofer, the 5-inch cone midrange, and the 1-inch Aluminum/Magnesium Alloy tweeter with waveguide. Special 70th Anniversary badges are affixed to each of the loudspeakers and a 70th Anniversary certificate is included with the serial numbers of the individual loudspeakers and signatures of the system engineer and factory assembly technician.
Front-panel mid- and high-frequency trim controls, bass-reflex enclosure with front-firing port, binding-post speaker terminals, and a black wood grain finish with removable black cloth grille round out the system's performance features.
For more info, check out www.jblsynthesis.com