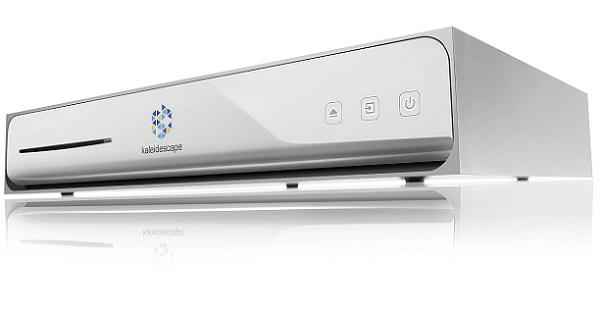 Kaleidescape Inc., has just introduced an all-new movie player – the Cinema One.  The Cinema One is Kaleidescape's first product specifically developed for retail distribution.  It allows consumers easy access to up to 100 Blu-ray or 600 DVD quality movies via its internal storage, player and interface.
Up to now Kaleidescape's products have been installed primarily in expensive home theaters and/or whole-home systems.  The Cinema One now provides Kaleidescape's experience and technologies at a lower price point and in a user-friendly package that caters to the needs and budget of the general retail consumer.
Cinema One allows the viewer to watch Blu-ray and DVD movies without previews, menus or ads by using a proprietary user interface.  The Cinema One also can be connected to any home automation system, which can create a more relaxed and theatrical experience – allowing lights to be dimmed to off, screen masking adjustments and movie play to all begin with just a touch of a button.  Using CinemaScape video-processing mode, the Cinema One optimizes for a 2.35 home theater.
Cinemo One allows for a second unit to be added, doubling storage and permitting second room indepent viewing and access to a combined library of movies.
Cinema One users can download movies directly from the Kaleidescape Store, which Kaleidescape claims is the only one offering movie downloads at the same audio/video quality of Blu-ray discs.
The Kaleidescape Experience utilizes the company's Movie Guide, which contains nearly a quarter million titles. Movies include high-resolution cover art and a short synopsis.  Kaleidescape experts have handpicked thousands of the most memorable scenes in films, concerts and musicals so viewers can jump directly to the best parts of their favorite movies.
Cinema One is the first component in Kaleidescape's new Cinema line and Kaleidescape's current custom installation flagship line-up of products will now be called the Premiere line.
Cinema One is now available at a MSRP of $3,995.  Look for details at: www.kaleidescape.com.