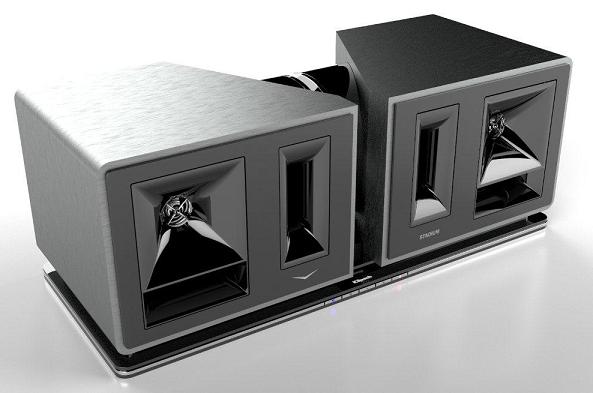 Klipsch just announced a total of three all-new, Apple AirPlay-enabled audio solutions that will debut at CES this week. The new products include the Klipsch RoomGroove Air, Klipsch Stadium and Klipsch Console.
The new Klipsch systems can stream high-quality audio directly from any iPod, iPhone or iPad, without the need for any specialized docking station, utilizing AirPlay technology and a wireless network. In addition, iTunes can also be streamed from a Mac or PC to the three systems. Featuring USB inputs for direct digital connection, the systems are also capable of charging most 30-pin Apple devices, while also accepting almost every music player available today.
Employing dual 1-inch tweeters with Round Tractrix horns and 2.5-inch woofers, the Klipsch RoomGroove Air stereo music system promises sound that defies its size. Housing a tuned port enclosure, the RoomGroove Air couples sonic clarity with bass output.
The Klipsch Stadium was created to ensure the convenience of portable music storage is accompanied by high-performance audio. The 2.1 tabletop sound solution features dual 1-inch, horn-loaded tweeters and 3-inch midrange woofers. In addition, these components are combined with dual 5.25-inch, built-in subwoofers to ensure premier bass output and sound quality. Showcasing brushed aluminum cabinetry with soft-touch accents, the high-design Klipsch Stadium harmonizes with any size and style living arrangement.
Hand built in Hope, Ark. where the brand was originally founded, the Klipsch Console serves as both a multifunctional 2.1 audio system and furniture centerpiece. Boasting cutting-edge design and engineering, the Klipsch console provides plug n' play functionality for music, movies and television, in addition to its Airplay capabilities. Versatile inputs, including HDMI, optical and USB, provide numerous sound connection options no matter the preferred media source. To best produce the Klipsch sound signature, the unique system utilizes dual 90° x 60° Tractrix Horns with 1.75-inch titanium dome, high-compression drivers featuring Linear Travel Suspension (LTS),10-inch machine-spun Cerametallic woofers with folded cones and huge motor structures, and 12-inch non-resonant, woven fiberglass subwoofer drivers with large, four-layer, aluminum-wound voice coils. For added impact, the Klipsch Console can also be used as a center channel and subwoofer solution for more extensive home theater setups.
The Klipsch RoomGroove Air and Klipsch Stadium speakers will be available by Fall 2012, with Klipsch Console following in Winter 2012.
Look for more information on these products at: www.klipsch.com.