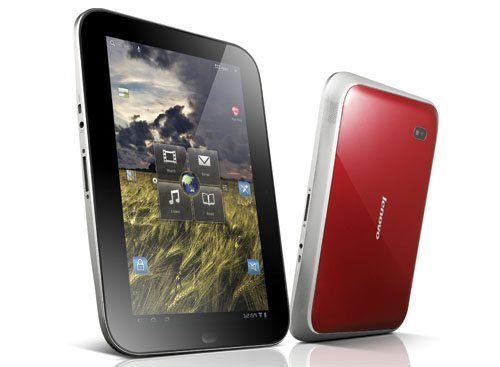 Lenovo has just jumped on the tablet bandwagon by announcing its first tablets – the IdeaPad Tablet K1 for consumers, the ThinkPad Tablet for business customers, and the IdeaPad Tablet P1 for home and office use. The new Lenovo IdeaPad Tablet K1 and ThinkPad Tablets are the company's first mobile internet devices featuring the Android 3.1 platform, and the IdeaPad Tablet K1 is the industry's first Android-powered tablet certified to deliver Netflix video streaming. The Android-powered Lenovo tablets also provide access to more than 250,000 apps in Android Market as well as apps tested for the Lenovo device in the Lenovo App Shop.
As the first Honeycomb tablets certified for Netflix, Lenovo tablets can help turn every night into "movie night." With HDMI output and Digital Rights Management (DRM) built directly into the IdeaPad and ThinkPad tablets, Netflix members can instantly watch movies and TV shows streaming from Netflix directly to a big screen TV,
The IdeaPad and ThinkPad tablets feature NVIDIA Tegra 2 dual-core mobile processors that offer extreme multitasking, noticeably faster web browsing with built-in Adobe Flash Player, console-quality gaming and low power consumption for improved battery life.
IdeaPad Tablet K1
Weighing just 1.63 lbs, the highly mobile IdeaPad Tablet K1 offers integrated Bluetooth and 802.11Wi-Fi connectivity. The IdeaPad Tablet K1 offers several key features and tools as standard, for flexibility, power and security to enjoy digital content anywhere. Simply put, the Lenovo IdeaPad Tablet K1 helps users who want:
The Android-powered Lenovo IdeaPad Tablet K1 is preloaded with more than 40 apps from partners like Netflix, Amazon, Adobe, Electronic Arts, Rovio, Zinio, Dataviz, and others (over $50 in value), including favorites like Need for SpeedShift, Angry Birds, Kindle reading app and Documents to Go.
Users can browse all websites and watch online videos with ease thanks to Adobe Flash Player 10.3. Plus, with DRM, they can rent movies in every available format. At a later date shortly after launch, users will also be able to both rent or buy movies to play off-line with a new application Lenovo will pre-load.
Users can access an entire network of friends and social sites all in one place, with Lenovo's exclusive SocialTouch app, which effectively creates a one-stop social connection. And since one picture is still worth a thousand words, the Lenovo IdeaPad Tablet K1 comes with a two-megapixel front-facing and a five-megapixel rear-facing webcam.
Users can watch movies and videos in breathtaking HD on a 1280 X 800 resolution screen. The mini HDMI connection allows up to 1080p HD viewing when connected to an HDTV or monitor, resulting in a powerful visual experience.
Users can sync, store and share files, music and photos with more integrated cloud storage, and less reliance on their local storage.
ThinkPad Tablet
The ThinkPad Tablet combines the superior media and entertainment experience of the IdeaPad Tablet K1 with the security, reliability and manageability features ThinkPad is known for, to create the first true business-class tablet. Designed as a companion computing device for professionals on the go, the ThinkPad Tablet includes an optional digitizer pen, a full-size USB port, full-size SD card slot, and mini-HDMI for connecting to external projectors and displays, as well as an optional ThinkPad quality Keyboard Folio Case with optical TrackPoint.
Data remains safe on the ThinkPad Tablet with layered data security, and the device is easily supported by IT managers thanks to a suite of business partner solutions that include anti-theft software and the ability to disable the tablet if the device is lost or stolen with Computrace. Additional security features include virtual desktop support support with Citrix Receiver, simple zero-touch deployment with LanDesk and secure email support available from Good Technology.
Offering a 10.1" WXGA (1280×800) display weighing a mere 1.65 lbs, the ThinkPad Tablet also comes with an IPS display for a 178-degree viewing angle and scratch-resistant Corning Gorilla Glass. This business-class device keeps professionals connected, productive and entertained while they're away from the office and their home.
When work happens on the go, ThinkPad Tablet allows users to view and edit Microsoft Office documents with the preloaded Documents to Go app by DataViz. Or they can jot down notes that automatically convert to handwritten text with the optional ThinkPad Tablet Pen. When even more versatility is required, users can plug in the Keyboard Folio for fast, comfortable and accurate typing and mouse control.
With WiFi connectivity, 2GB of free cloud storage, a standard size USB port and SD Card Reader, and Lenovo's unique file copy utility, sharing media files and documents with other people and electronic devices is easy. Presentations may look even better when connecting to an external monitor via the built-in mini-HDMI port. Users can conveniently sync key files and folders with their tablet every time they plug into their Windows 7 PC. With apps like ooVoo, dual cameras allow users to show either themselves or what they are looking at in a video conference. Users can keep in touch with friends and business contacts using Lenovo's exclusive SocialTouch app, which puts social networks, email, and calendar notices all in one easy-to-use interface.
ThinkPad Tablet can connect to a range of devices and networks without hands-on help from IT administrators. Users can utilize corporate network passwords to access their device and connect to corporate email with the specially certified app, Good for Enterprise. IT managers can easily create access unique corporate preloads from the Lenovo Image Technology Center as well as share and distribute company purchased or developed apps to numerous devices through a custom, corporate-controlled app store. Most importantly, users will have the ability to protect confidential data with robust security features including SD card encryption, lost device disablement and anti-theft software.
Get solid protection: ThinkPad Tablet customers will have access to Lenovo's full portfolio of enterprise-level services, such as ThinkPlus Support, which provides business customers direct access to advanced technicians with tablet specific experience, and Tablet Protection, which gives business customers coverage for non-warranted damage from operational and structural damage due to drops, minor spills, electrical surges and other accidental damage incurred under normal operating conditions. In addition, Lenovo's Imaging Services help save IT departments from having to do custom images for each machine, and ensures that even with flash images, the warranty is protected and the tablet is ready-to-go right out-of-the-box.
IdeaPad Tablet P1 with Windows 7
Lenovo's 10.1" IdeaPad Tablet P1 with Microsoft Windows 7 features a 1.5GHz Intel processor so users can be more productive with Office documents, or get creative with photos while on the move.
The IdeaPad Tablet P1 boasts a multitouch touchscreen display and optional stylus pen for added flexibility, easy access to Web content thanks to full Adobe Flash Player support and HD playback, and Microsoft Security Essentials for an extra layer of security. At just 14.5mm thin and weighing less than 2lbs, the IdeaPad Tablet P1 with Windows 7 offers portability, power and versatility for the office, in the home and on-the-go.
Lenovo App Shop
In addition to the hundreds of thousands of apps available in Android Market, IdeaPad Tablet K1 and ThinkPad Tablet users have access to apps in the Lenovo App Shop — a unique app marketplace, which features popular applications that have been tested specifically for Lenovo IdeaPad and ThinkPad Tablets. The Lenovo App Shop offers apps within a broad range of categories including music, movies, books, productivity, social networking, weather, printing and more.
The Lenovo App Shop will also support enterprise applications and a private corporate application store to help businesses more easily integrate tablets into their daily operations. In addition, Lenovo will offer country-specific applications, currency, and languages.
Pricing and Availability
The 32GB model IdeaPad Tablet K1 is priced at $499, and can be ordered in the U.S. starting July 20, 2011, through select business partners and retail stores nationwide, or online at www.lenovo.com/tablets.
The product will be available in the U.S. in August 2011 and available worldwide during the third quarter 2011.
The 16GB ThinkPad Tablet is priced at $479 without the digitizer pen, and at $509 including the digitizer pen, for Wi-Fi models. The 32GB ThinkPad Tablet (Wi-Fi model) with digitizer pen is $589. There is also an optional keyboard portfolio carrying case available for $99. At a later date, shortly after launch, ThinkPad Tablets with 3G will become available. ThinkPad Tablet can be ordered in the U.S. starting August 2, 2011, online at www.lenovo.com/tablets, or through business partners nationwide. The product will be generally available in the U.S. in August 2011 and generally available worldwide during the third quarter 2011.
The IdeaPad Tablet P1 will be available in the fourth quarter 2011.