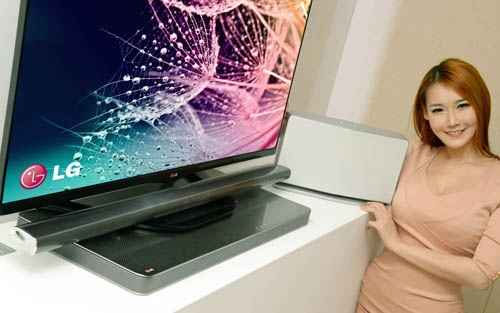 In just a few weeks, at CES 2014 in Las Vegas, LG will reveal their latest Smart Blu-ray players, home theater systems, Pocket Photo 2.0 and the Mini AUDIO products to consumers.  The selection of products includes the latest iteration of their space-saving SoundPlate (Model LAB540W), innovative Wireless Audio System (Model NP8740) and Sound Bar (Model NB5540). 
The LAB540W /SoundPlate, is LG's latest model in their new category of slim audio devices for today's flat screen TVs. The SoundPlate sits under 40 mm above its base, which allows it to be easily placed directly  beneath a variety of 32- to 55-inch TVs.  With its 4.1 channel, 320 watt capability and external wireless subwoofer, the system has been designed to provide full-bodied sound that is immersive and widely dispersed.  
The SoundPlate also serves as a connectivity portal and features a built-in 3D Blu-ray player along with LG Smart TV functionality.  With a second screen device, user can wirelessly stream content to the LAB540W over local Wi-Fi network or via Bluetooth.
The LG Wireless Audio System NP8740 runs the latest mesh network technology, which includes dual band Wi-Fi support (2.4/5GHz) to deliver high quality streaming music throughout the home. Each wireless speaker sends sound in multiple directions.
Several speakers can be set up in any combination of rooms, connecting an entire house under a single system and the NP8740 can connect to other audio systems for an integrated experience with greater output and control.  The Wireless Audio System allows digital audio collections to be accessed without a home network while a downloadable app turns a smartphone intoan easy-to-use master control unit. The interface even lets users seamlessly stream audio from online sources. Overall clarity is enhanced by a dual-tweeter arrangement and 24 bit/192kHz offers studio-like sound quality.
LG's numerous Sound Bar options are the perfect complement for a wide variety of TV sizes and styles.The NB5540, for instance, is a beautiful match for modern thin-bezel TVs thanks to its minimalist design and polished dark silver finish. A particularly stunning accompaniment to LG's premium flat screen TVs, the system features 4.1 channels and 320 watts of powerful output. Despite its low profile body, the NB5540 delivers rich, room-filling audio thanks to two forward-facing and two rear-facing channel configuration. The unit also employs a Hi-Fi DAC and Analog Class D amp to ensure superior HD audio quality, minimizing the loss of detail and producing clean, natural sound.
The NB5540 supports HDMI with Audio Return Channel (ARC), enabling it to connect to a TV with a single cable. The system is also Bluetooth enabled, facilitating wireless audio streaming from smart devices such as a Smart TV or smartphone. The NB5540 can be wall-mounted or placed anywhere in the room, giving homeowners an array of installation options.
Pricing and availability of these and other new LG audio /video products is yet to be announced.  Look for more details to be made available shortly at: www.lg.com.