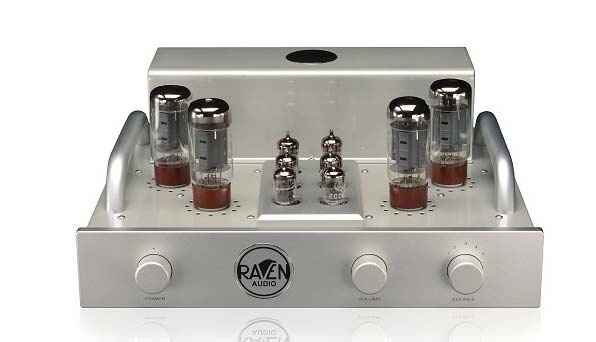 Raven Audio is featuring its Nighthawk Integrated Amplifier as an example of how "tubes do it better" at an affordable price point.  All that's needed is a source and a pair of efficient speakers (sensitivity of 87 to 96dB/1w/1m).
The Nighthawk is an integrated amplifier that brings together the preamp and amplifier sections within a single chassis – resulting in shorter signal paths and less cables, along with requiring less space on your rack.  With self-biasing, replacing or experimenting with different tubes is virtually plug-n-play.
The chassis is manufactured of sturdy 14-gauge carbon steel with an aircraft-grade aluminum faceplate and handles are made of carbon steel with knobs machined from aircraft-grade aluminum.  The folded carbon steel plate gets a high-quality primer and several coats of high-grade automotive enamel, which is baked and clear-coated several times with aircraft-grade sealant. 
The Nighthawk Integrated delivers 20 watt-per-channel and along with being a wideband amplifier is said to deliver a smooth, detailed and very present palpable sound.  
Raven Audio's Nighthawk Integrated Amplifier is currently available at a MSRP of: $1,595 U.S.  More details can be found at: www.RavenAudio.com.