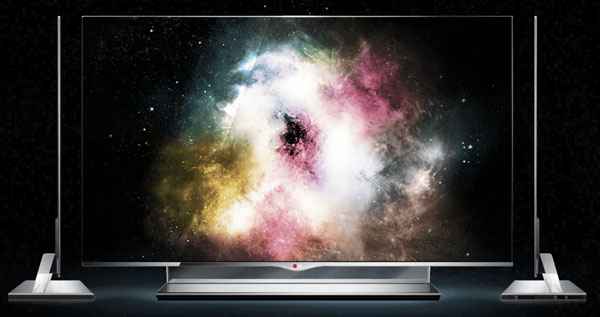 Last week LG said it would begin shipping its revolutionary new LG 55EM9600 OLED (Organic Light Emitting Diode) TV in South Korean in February.  This week at CES 2013, the company confirmed that this TV will be available in the United States beginning in March.  The suggested price in the United States is expected to be $11,999.  As the first company to announce availability of the next-generation TV technology, LG is prepared to ramp up quickly to take the lead in the OLED segment that is expected to grow to 7.2 million units by 2016, according to DisplaySearch.  Only 0.16 inches (4 millimeters) thin and weighing less than 22 pounds (10 kilograms), LG's OLED TVs produce astoundingly vivid and realistic pictures thanks to its superior WRGB technology:
LG's unique Four-Color Pixel system features a white sub-pixel, which works in conjunction with the conventional red, blue, green setup to create the perfect color output.
LG's exclusive Color Refiner delivers even greater tonal enhancement, resulting in images that are more vibrant and natural than anything seen before.
The 55-inch OLED TV also offers an infinite contrast ratio, which maintains optimal contrast levels regardless of ambient brightness or viewing angle.
Stay tuned to the CANADA HiFi website for Canadian availability and pricing when it is announced.  For more info, please visit www.lg.com