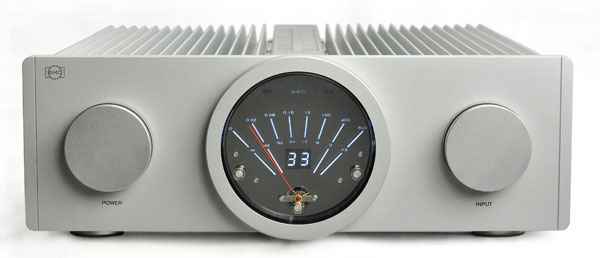 Balanced Music Concept (B.M.C.) Audio has just introduced the AMP M2 Mono Power Amplifier at CES 2013.  The AMP M2 delivers exceptional musical reproduction consistently, purely and transparently. Listeners experience only unbridled power and music's finest details, without any intrusion of the amplifier itself. Perfectly balanced, the AMP M2 runs cooler than traditional class A designs and silently. It exhibits no signal path feedback on the theory that it's better to avoid distortion from the start than to try to correct for it later, and consistent musical dynamics at any volume level without compression.
The AMP M2 possesses a surprisingly powerful dynamic vitality for its relatively compact size, a very affordable price given its high performance and top grade materials, an 88-pound weight that only begins to suggest its exceptional build quality, an elegant design, and three of B.M.C.'s exclusive advances. The channel separation produced by two separate AMP M2s cannot be surpassed.  B.M.C.'s exclusive innovations include its Load Effect Free (LEF) technology, Digital Intelligent Gain Management (DIGM), and Current Injection (CI) technology. They ensure listeners only experience the amplifier's power and music's finest details.
The M2 delivers 200 watts into 8 Ohms, and 380 watts into 4 Ohms with a frequency response of 1Hz – 200kHz (@1W). A fully regulated power supply with a massive 2-kW toroidal transformer and balanced current capacitors contribute background silence and rock-solid stability.
LEF technology raises speaker output, the quality of the AMP M2's audio reproduction, and the amplifier's efficiency. It achieves these by handling speakers' current demand separately from the voltage demand, relieving the Class-A transistor of all duties other than providing perfect signal reproduction.
DIGM technology is a volume and amplification control that lets listeners adjust left/right output balances in 1-decibel increments by setting the M2's gain on B.M.C.'s DAC 1 Digital-to-Analog Converter. The DAC 1 optically transmits the value to the M2. This avoids unnecessary input-signal attenuation and excessive amplification, contributing to a more natural musical quality. As a result, DIGM eliminates the need for a preamp circuit, avoids unnecessary excess gain, and allows direct connection to a DAC, phono preamp or other device. Additional benefits include a very short signal path, low noise, and the ability to reduce noise further by reducing volume.
CI technology further increases signal purity and the immediacy of the M2's musical reproduction. It does this by processing a signal source's current until it attains the loudspeaker's desired output voltage, replacing any gain stage by an original signal. Combined, B.M.C.'s LEF, DIGM and CI technologies draw listeners into a new world of tonal experience.
The AMP M2 exhibits the modular construction and massive build quality typical of B.M.C. components, with a stable aluminum chassis, and the finest components available for the electronics. Large Power and Volume buttons and an easily read Power Meter enhance the front panel.

On the rear panel, balanced XLR and XLR-CI inputs, unbalanced RCA inputs, one pair of speaker outputs with gold-plated binding posts, and an AC power connection help the AMP M2 take advantage of its many technologies.
The AMP M2 Mono Power Amplifier is available now for $7,990 US.  For more info please visit http://www.bmc-audio.com.   B.M.C. products are distributed in Canada by www.audionation.ca.