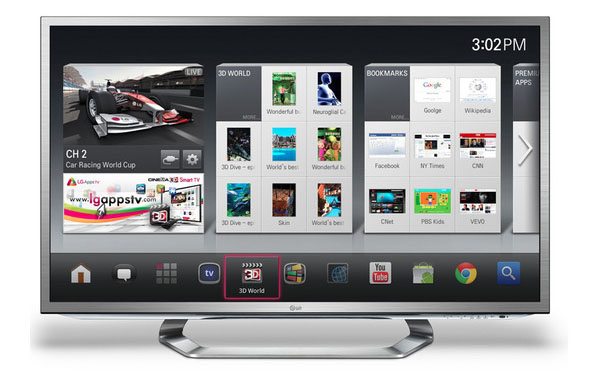 LG Electronics USA is offering live demonstrations of its upcoimng Google TV models at Internet Week New York, which began yesterday. LG's Smart TV with Google TV (G2 Series) combines the power of Google services with the speed of LG's new L9 dual-core chipset and a user-friendly interface for the next-generation Google TV experience. The event runs from May 14-17 at 82 Mercer Street in Manhattan.
LG's G2 Series TVs are the first Google TV models coming to the U.S. market with a dual-core processor – LG's L9 chipset based on the ARM architecture with a quad-core graphics processing unit (GPU) – offering ultra-fast processing speeds. The chipset powers the TV's highly powerful Google TV Search across the Web and live TV, allowing consumers to quickly watch what they want, with little upload and lag time.
Through the TV & Movies app, YouTube, Chrome, and the Google Play Store, the LG Google TV makes watching anything you want, no matter where it is, easy. The LG G2 with Google TV brings it all with superb broadcast picture quality. The L9 chipset also provides the power needed for LG's 5-mode Magic Remote with QWERTY keyboard.
The G2?s Magic Remote with QWERTY keyboard offers a unique approach to the Google TV remote. In addition to a full keyboard, it responds to gesture-based commands, similar to a Wii remote, and offers scrolling as well as voice recognition for simplified search capabilities. The "Wheel" feature enables swift scrolling through Web pages, various menus and applications – just like a PC – allowing users to view content quicker and more efficiently. LG voice recognition technology allows users to enter text in search terms with voice commands, speeding up the overall browsing experience.
The G2?s user interface and Home Dashboard have been designed for convenient browsing and content selection. Consumers can also customize content menus for each user in their home, ensuring their favorite or most needed content is available with only a few clicks. Multi-tasking is also possible, as the search, social networking and TV functions can be run simultaneously.
To complete the user experience, the G2 also features LG's CINEMA 3D technology, which uses proprietary Film Patterned Retarder (FPR) technology, to deliver shutter free Full HD 3D with battery-free and lightweight glasses. Six pairs of 3D glasses are included in the box, making LG's Google TV ideal for viewing with a large group of family and friends when used in 3D mode.
LG Smart TV with Google TV (G2 Series) is expected to be available online and at regional retailers later in May in 47-inch (47.0-inch diagonal) and 55-inch (54.6-inch diagonal) class sizes at $1,699.99 US and $2,299.99 US respectively.  Canadian available was not available at the time of this press release.
For more information, go to www.LGusa.com/G2 .