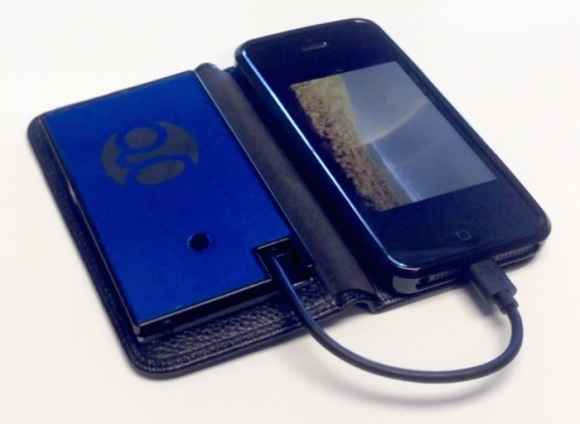 LH Labs, a division of Light Harmonics, has just announced their development activities on a new product – the Geek Wave. Two key benefits of The Geek Wave are longer battery life and better sound for smartphones. Geek Wave has been designed to work with smartphones to improve audio quality – making music, movies and games easier to hear. Geek Wave will charge smartphones up to twice and twice as fast as conventional chargers plus it can act as a 256 G additional hard drive – for storage of over 50,000 songs.
The Geek Wave is small and therefore portable and will interface directly with a smartphone. Geek Wave is built on a high-performance digital to analog converter from Light Harmonic that is used in "cost-no-object" audio components. Using Light Harmonic's "Instant Power" technology, Geek Wave delivers two times more power to headphones, allowing them to be heard at the optimal levels and compensate for unwanted ambient noise. Geek Wave uses Light Harmonics' Duet Engine to improve the digital signal. Geek Wave also adds storage capacity with 256 GB of memory.
Technical specs include USB micro-B connector or Apple Lightning connector, a 3000mAh internal battery, and 1/8″ headphone jack with an output impedance of 0.47 Ohm. PCM decoding is from 44.1 to 352.8 kHz at 16 to 32 bits. DSD decoding is from 2.822 to 6.144 MHz @ 1 bit. Play time on battery is up to 12 hours.
Geek Wave is set to soon be availabe at a MSRP of $399 U.S./each. Look for more details to be shared at: http://geek.lhlabs.com/
Comments are closed.