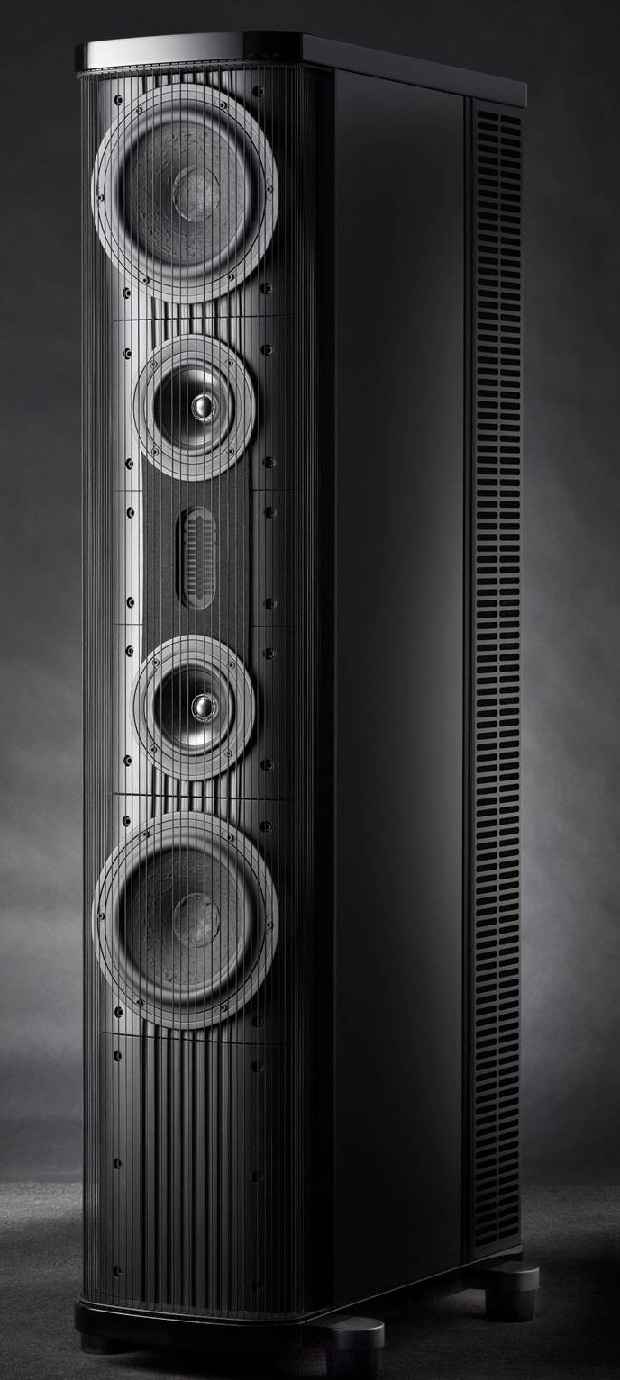 Gryphon Audio Designs, just recently announced an addition to its loudspeaker product line – their new Pantheon loudspeaker. The new Pantheon will be their most compact floorstanding model, smaller than Gryphon's existing Pendragon and Trident II floorstanding models.
The Pantheon uses constant-phase technologies to ensure driver phase coherence across the frequency bandwidth, which according to the company, allows the Pantheon to provide holographic realism, together with ultimate resolution.
The new Pantheon uses an Air Motion Transformer (AMT) drive unit with an extremely low-mass folded-metal diaphragm for a point-source sonic presentation. The cone drivers, in the Pantheon, are made in Denmark by Scan-Speak to Gryphon's specifications, with a focus on low Q and minimal dynamic compression. These dual 8" bass drivers and dual 5" midrange units are designed to provide tightly focused sound, using ultra-linear motor systems for maximum force and focus and total control of the motion of the layer-damped fiberglass cones.
The crossover in the Pantheon is fourth-order and uses components from companies such as: Duelund, Jensen, Holm, Mundorf, with a layout that has been optimized for minimal electromagnetic interaction and is fitted to a decoupling platform to prevent vibration. A constant charge via 28V battery to the electrolytic capacitors in the impedance-correction circuit is applied. The battery-biased 'class A' operation is utilized to ensure a smoother, more richly detailed three-dimensional presentation. The crossover network is hand-adjusted to provide the greatest possible precision and transparency.
The new loudspeeaker uses a five-driver, three-way design within a tall cabinet with massive bracing. The contoured modular baffle, driver surrounds and baffle covering have been designed to address baffle reflections and eliminate unwanted diffraction phenomena. Independent baffle elements for each driver break up the pathway through which vibrations would otherwise be transmitted in a single, shared baffle. The five dedicated Pantheon baffles allow precision time alignment of the individual drivers based on the now classic, subtle Gryphon baffle curvature.
The Pantheon's cabinet uses precision-tuned reflex chambers for the dual bass drivers and an isolated, sealed chamber for the twin midrange units. The side panels are a modular construction for simple removal and replacement at any time.
The Pantheon has been designed by Gryphon founder and CEO, Flemming E. Rasmussen, and is manufactured in Denmark. It will be officially introduced at the upcoming High End show, held May 15-18, 2014, in Munich, Germany. The European price for the Pantheon is €35,000/pair, with North Amercian pricing net yet announced. Look for additional details to become available at: http://www.gryphon-audio.dk/
Comments are closed.